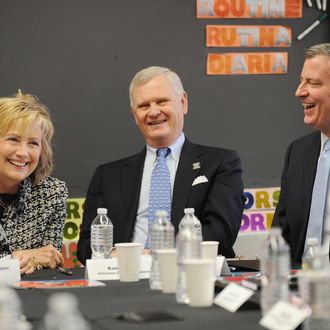 Is the mayor finally ready to admit he still likes Clinton?
Photo: Susan Watts/NY Daily News via Getty Images
Mayor Bill de Blasio, who was the campaign manager for Hillary Clinton's 2000 Senate campaign, is reportedly ready to finally endorse a presidential candidate after months of saying he was still thinking about it, so stop asking him.
Politico New York reports that de Blasio is expected to endorse his former boss before the presidential forum in Iowa he's hosting this December. Nearly every other Democrat in New York has already endorsed the former senator. 
Although it seemed very likely that the mayor, who also served in Bill Clinton's administration, would endorse Clinton, given his previous implicit endorsements of Clinton's policies and politics, he has been exceptionally reticent to do so, preferring to wait until he had a chance to "see the substance" and "actual vision" of her campaign.
His other reasons for not endorsing a candidate yet have included "It's April of 2015. This is an election that's a year and a half away"; "I think the issue of wages and benefits we need to hear a little more on"; "That's going to be a process"; and "I think a lot of us understandably want to hear the core ideas around fighting income and equality because that's what people struggle with."
A few fellow New Yorkers chastised de Blasio for waiting on an endorsement; Representative Sean Patrick Maloney said he should "have his head examined," and Anthony Weiner said, "You don't ask a family member to lay out her resume before you decide to support her … She [was] working on a progressive vision of health care when Bill de Blasio was still smoking pot at NYU or wherever he went." The New York Daily News' headline on the story back in April read, "Stabbed in De Back," while the New York Post went with "Hill's Fury" and  "Traitor!"
The endorsement is expected to happen "very soon." It is not clear if the timing is a result of the fact that de Blasio has finally been impressed by Clinton's platform, or if he felt lonely when Clinton's New York leadership team was announced this morning and every Democratic representative, senator, and citywide official — except for him — plus the governor, was on the list.
All of the presidential candidates were invited to his forum on December 6 — none have RSVP'd yet.