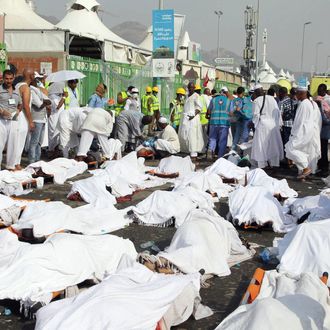 Photo: STR/AFP/Getty Images
It's been nearly a month since a deadly stampede took place near Mecca during hajj, and the death toll keeps rising. At least 2,177 pilgrims were killed in the tragedy, according to a new Associated Press tally, making it the deadliest in the history of the annual pilgrimage.
Countries continue to identify bodies and attempt to locate the remaining missing pilgrims from the September 24 disaster in Mina. The original death toll released by the Saudi government was 769 people. The country has yet to update that number, the AP says.
Saudi officials held a meeting Sunday about the disaster, led by Crown Prince Mohammed bin Naif bin Abdul Aziz, the Saudi Press Agency reported, but there was no response to the ever-increasing death toll.
The hajj, a five-day pilgrimage to Mecca, is required of all Muslims at least once in their lifetime. Overseeing the event is a source of pride for the Saudi monarchy. However, Iran has accused the country of mismanagement, saying the death toll really totals more than 4,700 — without offering any evidence.
Until this year's tragedy, the most deadly hajj stampede occurred in 1990, where 1,426 pilgrims were killed. An estimated 244 people were killed in a similar event in February 2004, The Guardian reports.