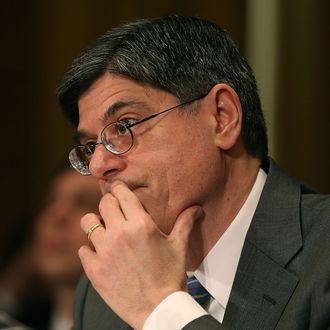 Jacob Lew.
Photo: Mark Wilson/Getty Images
Congressional Republicans may be done shutting down the government for now, but soon they will get a chance to enjoy their other favorite contact sport: fighting over the debt ceiling. In a letter to House Speaker John Boehner, Treasury Secretary Jacob Lew said on Thursday that the government would run out of cash around November 5, about a month earlier than the Congressional Budget Office had estimated in August.
The Treasury had already been taking emergency measures since March to avoid breaching the $18.1-trillion debt limit. In his letter, Lew explained that receipts from taxes due on September 15 fell short of projections, while government expenditures exceeded them. Despite the accelerated timeline for a default, The Wall Street Journal notes that the federal government's budget deficit is actually falling faster than expected this year.
Still, the bottom line is one more headache for Boehner, who is leaving Congress at the end of this month and has other urgent business to attend to before he goes — such as reauthorizing spending on the highway trust fund before it expires on October 29, and securing a more permanent budget deal than the stopgap measure currently keeping the government open through December 11. The challenge is compounded by Congress's upcoming weeklong Columbus Day recess.
According to the New York Times, however, White House officials are hoping that Boehner's impending departure has put him in the right political position to buck the conservative wing of his party and compromise on several contentious issues: the debt ceiling, the transportation fund, and reopening the Export-Import bank. There is even talk of a grand bargain of sorts addressing both the budget and the debt limit, but hopes of such a big deal are not high.
But if Congress fails to break this Gordian Knot of political deadlock within the coming weeks, it's even less likely to do so after Boehner's exit and likely replacement by House Majority Leader Kevin McCarthy. As New York senator Chuck Schumer put it to the Times, "It's hard to paint a scenario where it gets better."