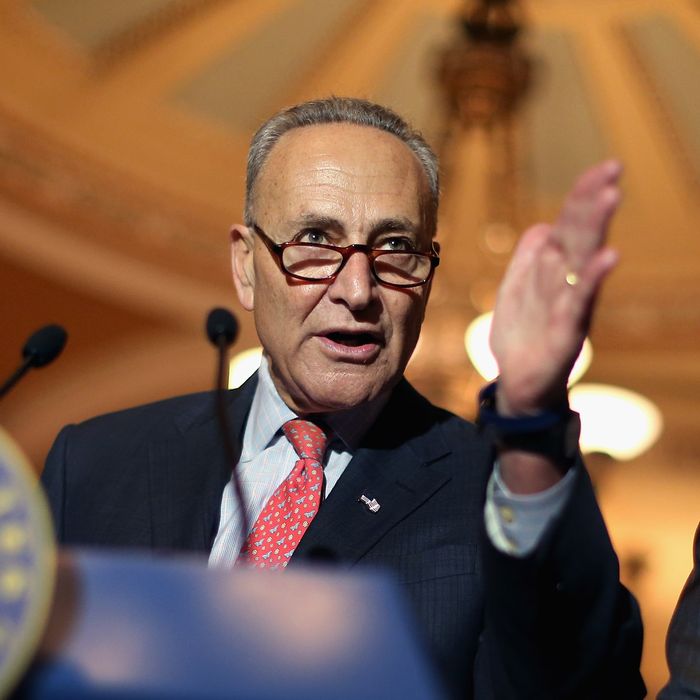 Senator Chuck Schumer and Senate Minority Leader Harry Reid talk with reporters at the U.S. Capitol on August 4, 2015.
Photo: Chip Somodevilla/Getty Images
Last week the Washington Post reported that gun-control measures were still "unlikely to gain steam" in Congress, even after the mass shooting at Oregon's Umpqua Community College. Yet, in a surprising move, on Thursday congressional Democrats are set to launch a campaign for new legislation to combat gun violence … that has almost no chance of passing in the Republican-controlled Senate, to say nothing of the House. Democrats are eager to show that they're willing to take action, even if Republicans aren't willing to consider new gun restrictions.
"We want to solve the problem and not just talk. So we're putting forward something that's solid and is supported by 90 percent of the American people," said Democratic senator Barbara Boxer. "The critics of the Congress are right: We're not doing enough to protect against gun violence, so we're stepping up to show that we can do it."
Senators Chuck Schumer and Debbie Stabenow outlined the plan, which will be announced at a press conference on Thursday morning, in a letter to their colleagues. It involves strengthening background checks by closing a loophole that allows gun purchases to proceed if the FBI's check isn't completed in three days, eliminating loopholes for firearms purchased online and at gun shows, and providing more funding for the existing federal background-check system. The proposal also calls for new restrictions on gun trafficking, domestic abusers who attempt to purchase weapons, and straw purchasing, or buying a gun for someone who legally can't purchase one themselves. "These principles will be a rallying point for a public that is eager for Congressional action, and will be the basis for future legislation that we will demand receive a vote," the senators said in the letter.
Ultimately, the legislation may be nothing more than a rallying point. Many of the same proposals appeared in the bipartisan bill introduced by Senators Joe Manchin and Pat Toomey in 2013, which failed by five votes. According to Politico, Democratic leaders are wary of compromising with Republicans again only to see another gun-control bill fail. Senate Majority Whip John Cornyn, a Republican, already has a bill in the works that focuses on expanding mental-health treatment and encourages states to provide mental-health records to the federal background-check database. Senate Minority Leader Harry Reid said he would "be taking a look" at that legislation, but it's unclear if Democrats will be willing to add his proposals to their package. It seems fairly unlikely, since Cornyn has already dismissed everything proposed by Democratic leaders, including President Obama and Hillary Clinton, saying they have "not come up with any solutions — any constructive ideas."
Schumer and Stabenow have not said when they plan to formally introduce the legislation, and it may not even make it to the floor for consideration — though a Democratic aide told the AP that the plan is to use procedural delays to force Republicans to hold a vote. Democrats hope that getting the Republicans' opposition to gun control on the record will hurt certain senators up for reelection in 2016. After all, both sides could make another serious attempt to find common ground on reducing gun violence, but using the issue as political fodder is so much easier.