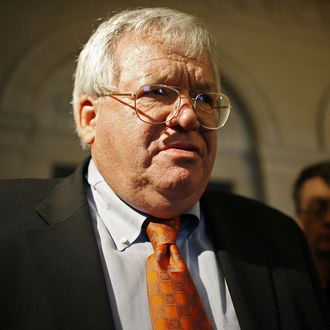 Photo: Chip Somodevilla/Getty Images
Attorneys for former House Speaker Dennis Hastert announced Thursday that their client plans to plead guilty to charges alleging he lied to the FBI about why he sent more than $1 million in illegally structured bank payments to an "Individual A." Hastert, who retired in 2007, had agreed to pay $3.5 million total to the unknown person. The payments were allegedly used as hush money to hide "prior misconduct" — allegedly a case of sexual misconduct from when Hastert was a coach and teacher at Yorkville High School outside Chicago decades ago. 
Back in June, Hastert originally pleaded not guilty days after a woman went on ABC News and accused Hastert of molesting her brother, who died of AIDS 20 years ago and was not "Individual A." The former politician plans to officially change his plea at a hearing set for October 28, according to his attorneys. It is not clear whether the plea deal reached with federal prosecutors would entail jail time — but it will prevent the well-known figure from going through a long, revealing trial. The final deal will be handed to the judge on Monday after some last-minute discussions between the defense and prosecutors. 
In July, Hastert's lead attorney complained that the ongoing news reports about the "prior misconduct" that led Hastert to allegedly break banking laws were making his job difficult. "The indictment has effectively been amended by leaks from the government," Thomas Green said. "It is now an 800-pound gorilla in this case. It has been injected in this case I think impermissibly. [The question is] whether I wrestle with that gorilla or I don't wrestle with that gorilla."