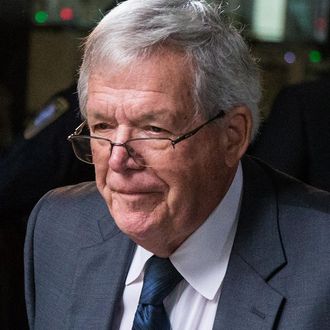 Former House Speaker Dennis Hastert leaves after a guilty plea at Dirksen U.S. Courthouse.
Photo: Zbigniew Bzdak/TNS
On Wednesday morning, former House Speaker Dennis Hastert admitted that he illegally structured bank withdrawals — a felony charge. 
He did not plead guilty to a second charge alleging that he lied to investigators about paying $1.7 million to an Individual A; that charge was dismissed. Hastert did give a brief statement at the courtroom, in which he noted, "I didn't want them to know how I intended to spend the money."
He will be sentenced on February 29; federal prosecutors recommended that he face up to six months in prison, although the judge could sentence Hastert to a maximum of five years. 
Because Hastert agreed to a plea deal (after initially pleading not guilty), few of the unknowns about his case, which looks dry and boring on the surface thanks to its reliance on financial law, were filled in on Wednesday — and he managed to avoid a potentially lengthy trial that could have been even more revealing. 
The actions that inspired the illegal bank withdrawals were never mentioned in court documents; however, several media organizations reported earlier this year that Individual A was a former student of Hastert, a former coach and teacher in Illinois, who was being sent money as part of a cover-up of decades-old cases of alleged sexual abuse. In June, ABC News talked to the sister of Steve Reinboldt, who died of AIDS in 1995. She accused Hastert of sexually abusing her brother, who is not Individual A. 
As Hastert left the courthouse and walked toward his SUV, a reporter yelled, "Do you have anything to say to the public?" according to the Chicago Tribune. The 73-year-old politician, who retired in 2007, did not answer any questions.