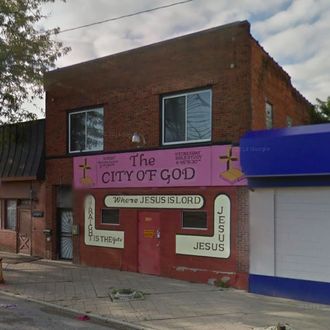 City of God church in Detroit, Michigan.
Photo: Google
Gunfire and brimstone came to a small Detroit church Sunday afternoon when the pastor shot an angry brick-wielding man in the chest, reports the Detroit News. The attack took place in the foyer of storefront City of God ministries when the victim, Deante Smith, confronted the pastor over an alleged affair he was having with Smith's wife. The pastor's name was not released by police. The pastor shot his Glock at least five times.
According to the police, Smith had previously threatened bodily harm against the pastor. After Smith's wife miscarried a baby, Smith accused the pastor of being the father. Police were called to the church last month over Smith.
Smith wrote on Facebook on September 18: "This (expletive) got my (expletive) pregnant. Tick tock (expletive) and everybody with you."
The pastor is still in police custody for questioning. A determination will soon be made of whether the shooting was justified.
Members claim the younger Smith threatened the pastor's wife, along with churchgoers, which may justify the shooting as an act of defense. A number of Detroit pastors have been vocal about the need for heightened security in the wake of the Charleston church shooting in June.