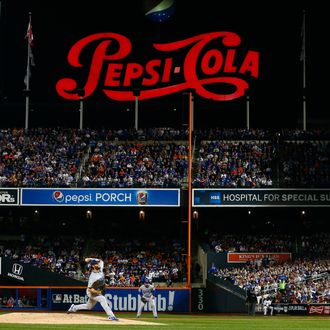 Clayton Kershaw pitching at Citi Field in Game 4.
Photo: Mike Stobe/2015 Getty Images
The Mets had an opportunity to advance to the NLCS on Tuesday night, but doing so would have required them to win a game started by Clayton Kershaw for the second time in five days. For all the dissection of Kershaw's spotty postseason history, he remains one of the best pitchers in baseball, and he pitched like it in Game 4. The Mets got to Kershaw just enough in Game 1, but at Citi Field on Tuesday, the Dodgers' ace was in control, holding New York to just one run and three hits over seven innings in a 3-1 Dodgers win that sends the series back to Dodger Stadium for a winner-take-all Game 5.
Steven Matz, making just his seventh Major League start, got into trouble in the third inning as the Dodgers took a 3-0 lead. Mets fans may have nightmares about Justin Turner this week, and not just because of his "heavy metal Amish leprechaun" look, as Sports Illustrated's Emma Span described it. Turner doubled in a pair of runs in the third, and in four NLDS games he's batting .467 with four extra base hits. Here's his Game 4 double:
Unlike Monday night, when the Mets answered right back after falling behind early, Terry Collins's club generated very little offense against Kershaw. The Los Angeles ace struck out eight, and the only run he allowed came on a homer by Daniel Murphy, who took Kershaw deep for the second time in this series after homering just once off a lefty during the regular season.
The Mets' best chance in this one was to hope for a comeback once Kershaw left the L.A. bullpen. And indeed, in the eighth inning they threatened, putting two men on during a two-out rally. But Kenley Jansen got Murphy, the go-ahead run, to fly out to right to end the inning, and in their last licks in the ninth, the Mets went down quietly in order.
The series now shifts back to Los Angeles for Game 5, and the winner of that game already knows its opponent: The Chicago Cubs, who eliminated the Cardinals on Tuesday with a Game 4 win at Wrigley Field. Jacob deGrom, the Game 1 winner who warmed up in Game 4 but didn't enter, is set to pitch for the Mets on Thursday night on an extra day's rest. Meanwhile, Zack Greinke, the Game 2 winner for the Dodgers, is set to start that game on normal rest. Whoever wins the Mets-Dodgers series will have home-field advantage in the NLCS against the Wild Card Cubs. And so Mets fans who left Citi Field disappointed after Game 4 will have to watch on Thursday to find out if they'll get a chance to return for Game 1 of the next series.