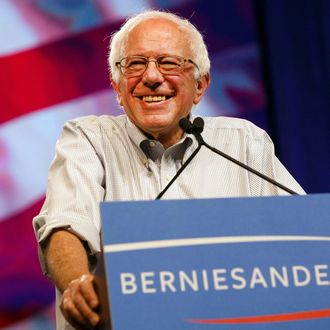 Photo: Patrick T. Fallon/Bloomberg via Getty Images
Democratic socialists aren't supposed to make $2 million in a single day. But Democratic presidential hopeful and self-avowed socialist Bernie Sanders did just that on Wednesday, bringing his campaign's total fund-raising haul for the third quarter to $26 million — just $2 million short of Hillary Clinton's total over the same period. His rapid fund-raising clip is widely seen as a victory for the Sanders campaign, which is trying to be taken seriously as more than a gadfly critique of the inevitable Clinton candidacy. He had raised a mere $15 million to Clinton's $47.5 million in the previous quarter. 
Clinton is still far and away the better-funded candidate. While a few steps down from her second-quarter showing, $28 million is the "largest off-year third quarter total for a non-incumbent in history," as her campaign has boasted. With more than $75 million raised over the past nine months, Clinton is on track to reach her campaign's year-end goal of $100 million. And that doesn't even include the funding she'll receive from her super-pac, Priorities USA, which took in $25 million between July 1 and mid-September, according to Politico. (Sanders isn't a super-pac man.)
But not all campaign dollars are created equal. Sanders generated his $26 million from a broader base, and at a cheaper price. As CNN's Dan Merica put it, Clinton's haul was "labor intensive," drawn from 58 personally headlined fund-raisers, where attendees were encouraged to contribute the maximum per-person contribution of $2,700. By contrast, Sanders held just seven fund-raisers, relying instead on online contributions averaging $25 apiece, from several hundred thousand individual donors. That means Sanders will be able to return to his existing donor base again and again over the next few months, while Clinton will have to recruit new big-dollar donors to keep pace, having maxed out many of the supporters who got her to this point.
The comparative frugality of the Sanders campaign — which, unlike Clinton's, has yet to purchase television ads in Iowa or New Hampshire — has put the Vermont senator close to matching Clinton in cash on hand.
The third quarter featured a particularly bad news cycle for Clinton, with much attention focused on her use of a private email server as secretary of State. Even with that negative coverage, she has retained a commanding lead in national polls.
Sanders's camp has to hope that its surprisingly robust fund-raising can be converted into greater name recognition nationwide. In other words, the socialist senator has to buy himself some votes.