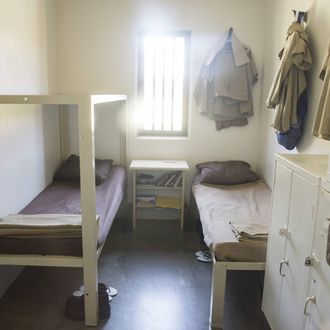 Photo: Saul Loeb/AFP/Getty Images
On Tuesday, the New York Times, Washington Post, and other outlets reported that 6,000 federal drug offenders would be released early — "starting at the end of this month," as the Times put it — specifically, October 30 to November 2. The prisoners' terms are being retroactively shortened as a result of softened sentencing guidelines for drug dealers. What was lost in much of the first wave of reporting about the plan, though, is that thousands of the offenders are already out of prison.
The 6,000 prisoners can be divided into two groups: About a third of them are foreigners who are getting released to Immigration & Customs Enforcement custody, with the plan being to deport them back to their home countries. Of the remaining 4,000 or so, though, "far above 50 percent" have already been transitioned to halfway houses or home confinement, a Department of Justice official told Daily Intelligencer, though she emphasized she didn't have exact numbers. (Generally speaking, the home-confinement option is open to prisoners who have a family member willing to take them in and vouch for them.)
This process has already been going on for months, said the official, who didn't want her name used. She explained that the DoJ, the Bureau of Prisons, and other agencies have been engaged in a yearlong process to line up the released prisoners with proper services, ranging from drug rehab to job training. Under the terms of the sentencing reform, some could have actually been released earlier this year — in certain cases, many months ago. "That was delayed in order to give us time to make sure they went through the appropriate reentry process," she said.
So, strictly speaking, it's true that the prisoners will be "released" from government supervision by November 2 — that is, most of them will be transitioning onto probation*. But many will be headed there not from a prison cell, but from a halfway house or a relative's home.
* This article originally stated that the released prisoners will be "on parole." Federal prisoners sentenced after November 1, 1987, are ineligible for parole [PDF], so the prisoners being released will actually be on probation. The Bureau of Justice Statistics has a rundown of the differences between probation and parole here.