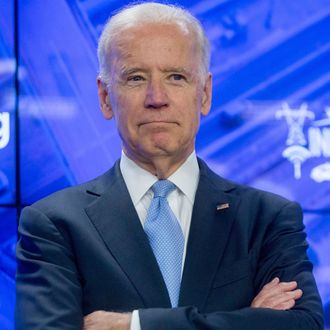 "Joe, Run."
Photo: Andrew Harrer/Bloomberg via Getty Images
The Draft Biden super-pac launched its first national television ad on Wednesday, and it's a 90-second tearjerker detailing the fatal car crash that claimed the vice-president's daughter and first wife.
Joe Biden's ambitions for a third run at the Oval Office are intimately tied up with his grief over his eldest son's recent death. Former Delaware attorney general Beau Biden reportedly urged his father to run for the presidency shortly before dying from brain cancer in May of this year. That narrative has grown more awkward for Biden in recent days, after Politico reported that the vice-president had leaked the story himself, possibly as a deliberate tactic to spur support for his prospective candidacy. (Biden's team has pushed back hard on that, calling the report "categorically false.")
But the Draft Biden group's inaugural ad further weds the vice-president's potential White House bid with his history of personal tragedy. The spot opens with a shot of a snow-dusted two-lane highway — much like the one where a tractor-trailer slammed into Neilia Biden's station wagon in 1972 as she drove back from Christmas shopping with her children, just weeks after her husband was first elected to the U.S. Senate. Biden's sons, Beau and Hunter, both survived the crash, while Neilia and daughter Naomi died.
In an audio clip taken from his speech at Yale University's commencement last spring, the vice-president recalls what he learned from the tragedy. "The incredible bond I have with my children is the gift I'm not sure I would have had, had I not been through what I went through. But by focusing on my sons, I found my redemption," Biden says. "Many people have gone through things like that."
The spot ends with a two-word message: "Joe, run."
The ad debuted during NBC's Today show this morning and is schedule to air on CNN next Tuesday night in the hours leading up to the broadcast of the first Democratic primary debate.
"The idea, I think, of this ad is to, you know, really show as many people as possible, the millions of people who will see it online and when it's up on cable, a part of Joe Biden's story that isn't told often enough," Josh Alcorn, senior adviser to Draft Biden, told NPR. "You know, I hope he likes it."