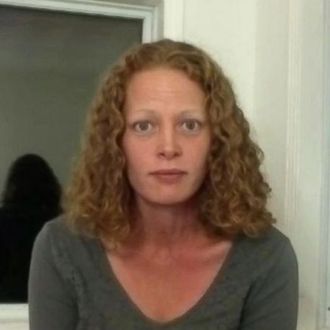 Remember Kaci Hickox, the nurse who was involuntarily quarantined when she landed at Newark Airport after treating Ebola patients in Sierra Leone last year? New Jersey governor and long-shot Republican presidential hopeful Chris Christie got a lot of flak — and quite a few pats on the back — for his insistence on keeping Hickox under quarantine even though she had tested negative for Ebola and showed no symptoms.
The governor had instituted a policy requiring anyone traveling from affected countries who might have had contact with Ebola patients to undergo a 21-day quarantine upon arrival, whether or not they showed any signs of illness. But Hickox made such a stink about being kept in a tent in Newark's University Hospital that Christie soon relented and let her go home to Maine to finish out her quarantine (Ebola panic and the attendant media circus soon followed her there).
Well, now she's back, and it seems she's still pretty sore about the whole ordeal. Hickox revealed on Thursday that she is suing Christie, along with several current and former New Jersey health officials, for violating her constitutional rights.
The lawsuit, backed by the ACLU of New Jersey, alleges that these officials violated her Fourth Amendment right to be free of unreasonable seizure as well as her Fourteenth Amendment right to due process, and that they subjected her to false imprisonment, invaded her privacy, and cast her in a false light, referring to Christie's public statements at the time implying that she was sick with Ebola.
Hickox is demanding a minimum of $250,000 in compensatory and punitive damages.
In a statement released through the ACLU, the nurse accused Christie of holding her in a "private prison," not for any legitimate public health reason, but rather "because some ambitious governors saw an opportunity to use an age-old political tactic: fear."
The other governor alluded to in that statement would be New York's own Andrew Cuomo, who implemented a quarantine policy during the Ebola pandemic very similar to Christie's take-no-chances approach. Cuomo, too, backed down on his order within a few days after widespread criticism.