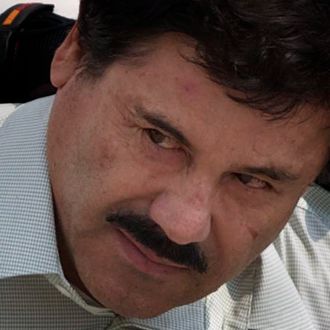 Photo: Eduardo Verdugo/AP/Corbis
Mexican authorities appeared to be closing in on the notorious drug kingpin and escape artist Joaquín "El Chapo" Guzmán — but they still haven't quite managed to catch him since his brazen tunnel escape from a maximum-security prison in July. Mexican officials confirmed reports, which leaked this week, that the Sinaloa cartel leader had been hanging out at a ranch in the Sierra Madre mountains in northwest Mexico. The Mexican military surrounded the villages near the suspected hideaway in helicopters, pounding the area with bullets. But El Chapo was, once again, able make his getaway — but not unscathed. The cartel leader is apparently wounded, with injuries to his face and his leg, according to the Mexican government.
But now the chase for El Chapo seems to have gone cold, and Mexican officials have basically no clue where he might be after he and his associates made a "hasty escape," likely on ATVs. According to NBC News, Mexico launched the offensive after the DEA tipped off Mexican authorities that its agents had intercepted cellphone signals that hinted El Chapo was hiding out at a mountain ranch. Mexican marines attacked by air, but Guzman's forces apparently returned fired, forcing the government to back down, so that when Mexican officials finally raided the ranch, it was empty except for some discarded cellphones and clothes. The Los Angeles Times reports that in addition to failing to catch El Chapo once again, the Mexican government's air raid forced hundreds of people in nearby villages to flee from the gunfire, while others were detained in their homes. "I was out the back with the baby in my arms when I heard the first bullet hit the house," one woman who witnessed the shooting told the Los Angeles Times. "I just ran and hid behind my back wall." 
This latest failure comes after another video of El Chapo's escape leaked Thursday, but this time with the sound — which confirmed the totally normal, not-suspicious-at-all sounds of hammering and drilling echoing through El Chapo's prison cell before he vanished down a nearly mile-long tunnel. According to El Universal, only the highest-ranking officers had access to the surveillance video with audio of Guzmán's cell, while 11 other officers charged with guarding the drug lord reportedly did not — which the attorney who's representing some of those guards arrested in connection with the escape is using as a defense, saying the prison workers couldn't possibly have known what was going on — or have prevented El Chapo from slipping away.
NBC News also reports that the video's time stamp indicates the prison workers didn't check on Guzmán until about 30 minutes after he had already disappeared from his cell, and it took about ten more minutes for reinforcements to enter the cell and go down into the tunnel, giving the Sinaloa cartel leader the pretty generous gift of a big head-start to freedom.  Some of those guards were also apparently playing computer solitaire in the moments before one of the world's most-wanted criminals broke out of prison.
And though El Chapo is still on the lam, he's apparently had some time to broker a deal with a rival drug empire, el cártel de Jalisco Nuevo Generación (Jalisco New Generation, or CJNG), led by Nemesio Oseguera Cervantes and known by his requisite kingpin nickname "El Mencho."  CJNG is on the rise, and it's one of the most brutally violent and richest drug operations in Mexico right now. The two cartels used to be aligned, but broke in 2010 when El Mencho took control, according to El Universal, but now Mexican intelligence officials are seeing signs that the two are working together again, which is probably not welcome news to the Mexican government already trying to save face over El Chapo's escapes.