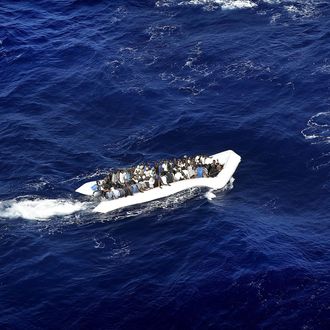 An aerial view shows migrants crowding a rubber dinghy.
Photo: Giuseppe Lami/EPA/Corbis
More than half a million migrants and refugees have crossed the sea to reach Europe so far this year, in a treacherous journey that's claimed almost 3,000 lives so far. On Wednesday the European Union will launch an operation to seize, stop, and divert traffickers' boats. The program is called "Operation Sophia," named for a baby girl born to a Somali woman who was rescued by a German ship off the coast of Libya in August. Up until now, the EU has focused mostly on surveilling the smugglers. The ultimate goal is to cut off the smugglers' routes and thus dissuade people from making the Mediterranean crossing in the first place.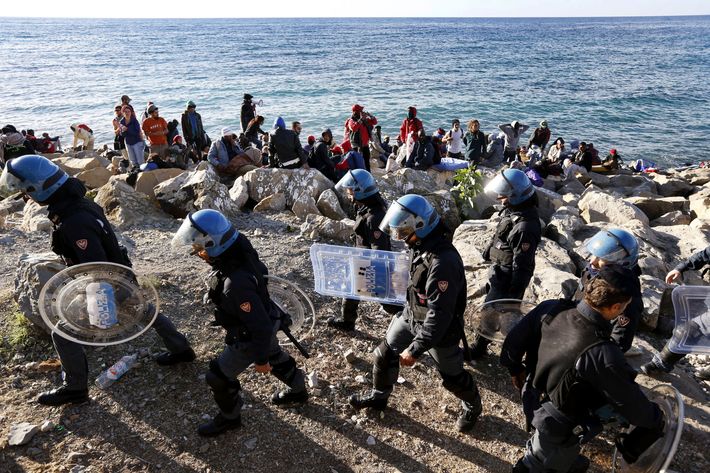 The plan will focus on the Mediterranean Sea and those people making the trip from the Libyan coast to Italy. This is the most dangerous among the widely used routes to Europe: An estimated 130,000 migrants have landed on Italian shores this year, but more than 2,700 have died making the trip. For the moment, the patrols will work in international waters (12 nautical miles off Libya's coast), though the BBC reports that the European Union wants to eventually operate closer to the Libyan coast — an undertaking that requires approval from the United Nations Security Council or Libya.
Some critics of the plan say that even if smugglers are stopped on the Mediterranean, it will do little to stem the flow of migrants, as they will just find another way to try to reach the continent. Here's hoping it's a safer way.