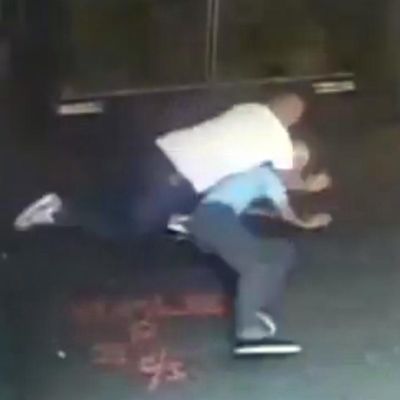 James Blake being tackled and arrested by James Frascatore.
An independent watchdog agency has confirmed James Blake's claim of mistreatment at the hands of the NYPD. The Civilian Complaint Review Board recommended that Officer James Frascatore be suspended or dismissed for using excessive force in his arrest of the ex-tennis pro. 
However, the recommendation is just that: advisory. Commissioner William Bratton will have final say over Frascatore's future with the department, which is conducting its own internal-affairs investigation. Frascatore was first placed on desk duty following the September 9 arrest, but following the release of hotel security-camera footage, he was subsequently stripped of his badge and gun. 
Stephen C. Worth, a union lawyer representing Officer Frascatore, scoffed at the findings. He told the New York Times that the "so-called substantiation is in no way a finding of any wrongdoing by any competent authority." At the time, Frascatore covered up the arrest, failing to note he had body-slammed and tackled the mistaken suspect. 
And this isn't Frascatore's first rodeo with the review board. Three similar complaints were filed against the 38-year-old in 2013, each relating to violent arrests and questionable charges. 
"I've never experienced that kind of violence in my life," said Blake shortly after his arrest. Blake was falsely identified as a suspect during a credit-card-fraud sting. But the white suspect who identified him as a co-conspirator was arrested without force, according to the Daily News. 
Both Mayor Bill de Blasio and Commissioner Bratton have personally apologized to the athlete for the arrest, promising a comprehensive review of department procedures. "This shouldn't have happened," said the mayor in an interview with NY1, "and he shouldn't have been treated that way."