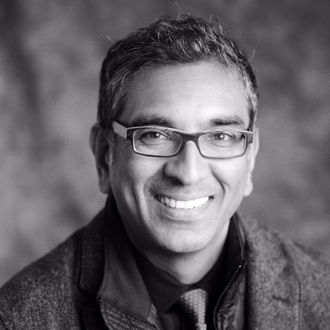 The architect, planner, cheerleader for cities, SHoP Architects principal, and urban-thinker-about-town Vishaan Chakrabarti is starting his own outfit, instantly making him one of the most formidable rookies in New York. This won't be just another scruffy design start-up: Chakrabarti's reputation as an intellectual force and his gold-plated contacts list mean that he begins on the 90th floor. His first new client is Sidewalk Labs, a new company, funded by Google and run by the Bloomberg-era deputy mayor Dan Doctoroff, which looks for ways to apply technology to urban issues. 
"I turn 50 next month, which is young in this profession," Chakrabarti said late yesterday. "I'm at this threshold moment where I can synthesize an unusually broad background. It's a very different proposition than starting a firm when you're 25. I'm not going to be doing kitchens and bathrooms. I can handle large-scale work and complex work." 
Despite the new entity's corporate-sounding name — Partnership for Architecture and Urbanism — and sweeping agenda ("to create an ecological network of empowered citizens, generous buildings, discursive public space, strong infrastructure and a thriving urban environment"), this is Chakrabarti's baby. In order to found it, he's breaking away from SHoP, which he joined as a principal three and a half years ago and which has grown into an international powerhouse, with projects from Botswana to the Lower East Side. He had a strong hand in shaping the new Domino project on the Williamsburg waterfront, which overcame neighborhood resistance to tall towers by incorporating space for small shops, local businesses, and public space. Chakrabarti insists he didn't feel stymied in a larger firm, only that he craved more independence. "My former partners gave me a lot of latitude, and they're terrific people. I wanted a firm that had my own voice."
A star without a style, Chakrabarti has a résumé that makes him difficult to pigeonhole. He has worked as a rank-and-file architect (at SOM), as a bureaucrat (at the Department of City Planning), an academic (at Columbia), and as an agent of Big Real Estate (at the Related Companies). He laid out his love of high-density urban agglomerations in his book A Country of Cities. All this makes it hard to foresee what his buildings will look like, or even if he will focus more on planning than design. "That binary distinction is hurting our city," he says. "We have architects who are not very sensitive to urban fabric and planners who aren't thinking about the physical city. A person can be both." 
* Two clarifications have been made to this post, correcting the length of time Chakrabarti spent at SHoP and removing an inaccurate reference to his work on one SHoP project.