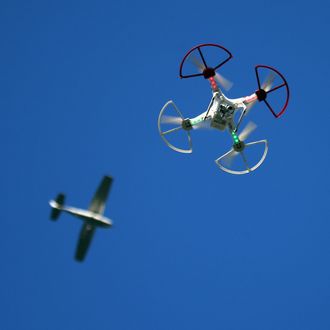 Photo: Bruce Bennett/Getty Images
In the face of increasing worry over the proliferation of drones and their potential to, among other things, get sucked into airline engines, endangering passengers, Transportation Secretary Anthony Foxx announced that his department, in coordination with the Federal Aviation Administration, will soon require they be registered with the government.
Industry groups say nearly 700,000 drones have been sold in 2015 so far, up 64 percent from the year before. So the government is trying to do something before the flock becomes uncontrollable. 
The new policy, yet to be fleshed out by the agencies, will be required for purchasers of drones present or past. All of the devices must be registered, or users can expect a fine. Foxx says his department is working swiftly to finalize the guidelines before the upcoming holiday season, when swarms of the remote-controlled flying machines are expected to be bought. One FAA official recently told Air Transport World he expects up to 1 million drones to land under Christmas trees this year.
Officials have no direct regulatory authority to curb what Benjamin Wallace-Wells described in a cover story for New York Magazine a year ago as the "punkish, pubescent energies" of the machines. But Foxx says the policy is a message to hobbyists: "The signal we're sending today is that when you're in the national airspace, it's a very serious matter," he told reporters.
And it can be quite serious. There have been close calls with planes landing, planes taking off, skydivers, and firefighters, including crash landings on monuments, the White House, tennis matches, babies on strollers, and even on the border while acting as a robo drug mule. So far, the vehicles have eluded strict regulation thanks to a regulatory loophole that classifies drones as "model airplanes." Various states have begun to take on regulation themselves to keep the craft from flying near public schools and prisons. The National Park Service recently banned low-altitude drone flights over the 84 million acres of federal land it oversees. 
In August, the Washington Post tallied the number of close calls reported by pilots to the FAA averaging out to nearly "100 sightings or close calls with rogue drones a month."
Meanwhile, some people are so annoyed with them they've started shooting them down.