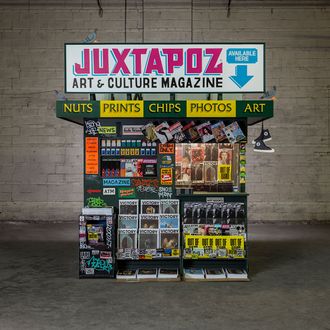 Gritty, ungentrified New York is the stuff of myth by now, the sort of thing you might wish you'd experienced but, as New York Magazine's Mark Jacobson wrote recently, usually without any idea of what it is you really missed out on.
And Times Square is perhaps the ultimate focus of this nostalgia. So appropriately enough, next week an art installation in homage to Classic New York™ will be installed there, and it will look like a … newsstand! Reminder: You're reading this on a screen, since print is, after all, dying, and newsstands are mostly places to buy Vitaminwater and gum. The artist, Kimou "Grotesk" Meyer, made a career out of this mythmaking. In the mid-2000s he was creative director of the skater-fashion brand Zoo York, named after a '70s graffiti movement.
Meyer was "fascinated by the raw beauty" of the classic New York newsstand and decided to re-create one from when he moved here 15 whole years ago.
According to the press release, "The T.SQ Newsstand is an artful reminder of New York City's support of artists and printed publications. It will offer a roster of hand-picked art and culture magazines, including Juxtapoz, Brooklyn's own Victory Journal and a limited edition publication featuring Charlie Ahearn, Daniel Arnold, Barbara Kruger and more."
Grotesk, who was born in Switzerland and lives in Brooklyn, made it for the SCOPE Miami Art Show­­ in 2014, where it was seen by Sherry Dobbin, Times Square arts director, who enthused: "Once I saw the installation in Miami, I knew it could perfectly merge the gritty days of old New York with the contemporary edge of newly created works. Is it real? What can you buy? What is it when the artists seize back a piece of history?"
It will feature graffiti, pigeons, and a pair of dangling Chuck Taylors, but, unlike the actual old days, you likely won't be accosted by anyone other than perhaps a desnuda. See it October 9 to 18, at 46th Street.