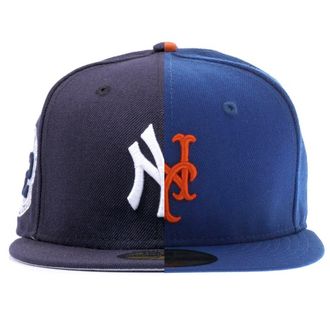 A city divided against itself by baseball loyalties cannot stand, at least when it comes to tolerating fair-weather fandom. Or so seems to be the complaint of a few Mets' fans, who, in addition to reveling in their return to the World Series, are whining about how many Yankees fans have the nerve to be rooting for a different home baseball team.
As most Mets fans are giddily aware, the Yankees, who have 27 championship rings, which is 25 more than the Mets have, are not going to the World Series. 
But nowhere is this tension more pronounced than in the Flores-Moronta family, who are currently having an awkward blood feud and are using New York Times reporters as their proxies. Die-hard Mets fan Michael Flores made the brawl public when he accused his sister and alleged Yankees fan, Priscilla Moronta, of hitching herself to the Mets' bandwagon after they beat the Dodgers. "She doesn't even know the pitching staff," Flores lamented to the Times.  
Moronta, seeing herself libeled in print, fired back. "We are at war," she declared. She furnished the Times with photographic proof that she, in fact, had at least donned a Mets jersey as far back as 2009. She added that she had been a Mets fan since she was a kid, and only went to Yankee Stadium twice and did not enjoy it. She did confirm that she married a Yankees fan — information corroborated by her husband (who, incidentally, admitted to cheering for the Mets in the postseason).
Her brother has not responded yet, but we've got some time between the end of baseball season and Thanksgiving, so ya gotta believe they'll get over it by then. Plus, this is a city led by a Red Sox fan, so there are bigger sports things to worry about.