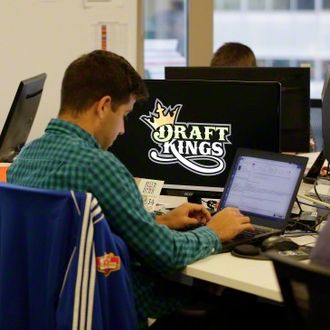 A DraftKings employee on September 9, 2015.
Photo: Stephan Savoia/AP/Corbis
In the wake of the revelation that a DraftKings employee won $350,000 on the competing site FanDuel possibly using insider information, both the Justice Department and the FBI are investigating whether similar daily fantasy sports sites broke federal laws against gambling. Customers pay fees to compete for prize money based on the performance of their selected players in real games, and some believe professional players have an unfair advantage. According to the New York Times, in the first half of this year's Major League Baseball season, 1.3 percent of daily-fantasy players won 91 percent of the profits.
The Wall Street Journal reports that FBI agents from the Boston office have contacted top players on DraftKings, which is based in Boston, and asked about their experiences with the company. They said the agents wanted to know about the behavior of DraftKings employees, and whether the company seeks bets from states where daily-fantasy sites are illegal.
In 2006 Congress banned financial institutions from transferring money to online-gambling sites, but games of skill were exempted. The Justice Department is looking into whether daily fantasy sports sites fit this definition, or should be prohibited as a form of gambling.
DraftKings denied any wrongdoing. "It is entirely predictable that the government would follow up on the misleading reports about our industry," a spokesperson said. "We have no knowledge of the specifics of any federal investigation but strongly disagree with any notion that our company has engaged in any illegal activities."