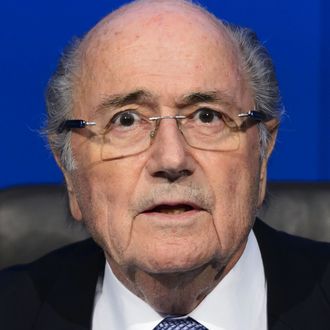 Photo: Fabrice Coffrini/AFP/Getty Images
FIFA's Ethics Committee showed the world soccer governing body's president, Sepp Blatter, and two of its other top officials the red card on Thursday, presenting each with a provisional 90-day suspension, while Swiss authorities continue investigating the organization's endemic corruption.
FIFA vice-president Michael Platini and FIFA secretary general Jérôme Valcke will join Blatter in 90-day exile. Platini doubles as the president of the body that overseas European soccer and was previously seen as Blatter's likely successor, according to the New York Times. Another candidate for that throne, former FIFA vice-president Chung Mong-joon, was dealt the harshest penalty of the day: a six-year ban from FIFA and a $103,000 fine. Mong-joon, a billionaire whose family owns South Korean carmaker Hyundai, was found guilty of violating FIFA's ethics code during the bidding process for the 2018 and 2020 World Cups.
All those rolling heads leave FIFA vice-president and Confederation of African Football head Issa Hayatou the last leader standing. Hayatou, who was himself sanctioned by the International Olympic Committee for taking cash payments from a sports marketing firm, will serve as interim president until elections for new leadership are held next February.
Blatter has been president of FIFA since 1998 and, up till now, had shown a real knack for avoiding culpability in the body's frequent scandals. But he started facing heightened scrutiny last spring when 14 soccer and marketing officials were arrested by Swiss and U.S. authorities on a broad menu of corruptions charges, including money laundering, wire fraud, and racketeering.
Though the FIFA president was not indicted on any of those charges, he nonetheless announced one week later that he would be stepping down from his post. Though Blatter had just been reelected to a fifth term, he scheduled a special election to choose his successor for February 2016.
Last month, officials from the office of Switzerland's attorney general marched into FIFA headquarters, seized documents from Blatter's office, and then interrogated the FIFA president for hours. The Swiss authorities said their investigation centers on "suspicion of criminal mismanagement and suspicion of misappropriation." Among the documents seized was a 2005 agreement between FIFA and former Concacaf president Jack Warner that gave Warner's network World Cup television rights at a price that appeared well below market value, according to the New York Times. 
While February's elections give FIFA a chance to elect more scrupulous leadership, finding a credible reformer within the organization may prove difficult.
"The rot in the FIFA leadership is so extensive," Alexandra Wrage, president of the global anti-bribery business association Trace International, told CNN. "There are no longer credible alternatives to choose from."