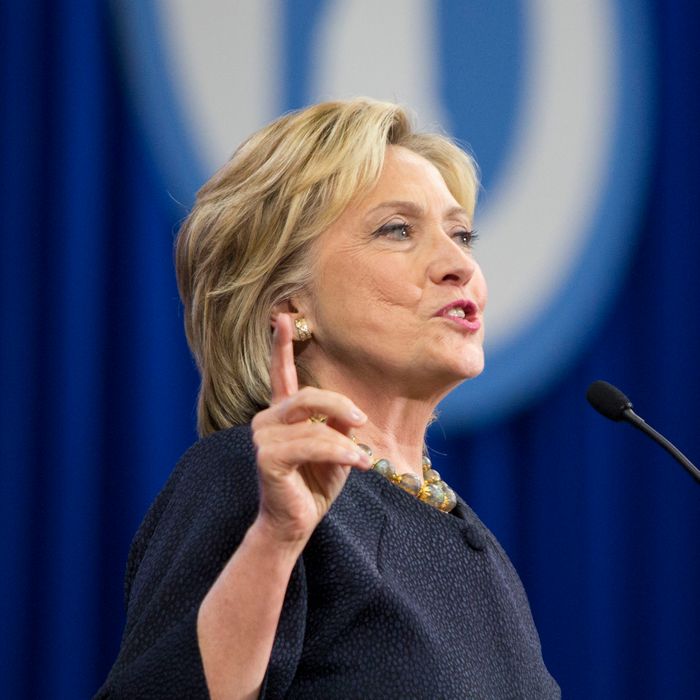 Hillary Clinton speaks during the New Hampshire Democratic Party Convention on September 19, 2015 in Manchester, New Hampshire.
Photo: Scott Eisen/Getty Images
Have you forgotten what political debates look like when they don't involve a reality TV star with a gift for insulting people? Tonight America will have the opportunity to experience a relatively Trump-free political discourse when the Democrats take the stage for the first time in the 2016 election. Hillary Clinton and her surprisingly successful challenger, Bernie Sanders, will finally go head-to-head as the three mostly unknown other candidates try to pull a Carly Fiorina and vault ahead in the polls. Here's a guide to get you up to speed, and be sure to check back tonight for Daily Intelligencer's liveblog and complete debate coverage.
When and where is the debate being held?
Tuesday, October 13, at 8:30 p.m. EST, at the Wynn Las Vegas Resort.
How can I watch it?
If you don't have cable, you can stream the debate on CNN.com and through CNN's apps for mobile devices, without logging in. Westwood One News will air the debate on various radio stations. The Fox News livestream crashed during the first GOP debate, but that shouldn't be a problem on Tuesday night. CNN successfully streamed the last Republican debate, and there will likely be a fraction of the viewers this time. As the Washington Post notes, the two Trump debates drew 25 million and 23 million viewers, while the highest-rated Democratic presidential debate in 2008 drew only 10.7 million viewers.
CNN has also partnered with NextVR to offer "the first-ever live stream of a news event in virtual reality," for those who have a Samsung Gear VR virtual-reality headset. But as Stephen Colbert demonstrated, virtual-reality debates really aren't all they're cracked up to be.
But think of how amazing Donald Trump's emoji faces will look in 3-D!
Trump won't be there. The candidates are Hillary Clinton, Bernie Sanders …
Don't forget Joe Biden!
He won't be there. While the first Democratic debate was once seen as the deadline for the vice-president to make a decision about entering the race, people close to him say he doesn't plan to participate and thinks he still has time to make the final call. The vice-president is scheduled to be in Washington on Tuesday and spent the weekend at his home in Delaware, attending his granddaughter's cross-country meet and his grandson's football game. When a reporter asked about his political future, Biden said sarcastically, "Get out of my way, will you?"
Still, CNN is thirsty for a dramatic last-minute Biden entry. According to the network's eligibility criteria, if Biden declares he's running on Tuesday, he'll be allowed to enter the debate, even if he's yet to file the necessary FEC paperwork. They even have a sixth podium waiting for him:
Sixth? Who else is going to be there?
Clinton and Sanders will be joined by Martin O'Malley, Jim Webb, and Lincoln Chafee. Harvard law professor Lawrence Lessig wasn't invited because he's polling below one percent.
Did you make up those names to see if I'm paying attention?
No. Martin O'Malley is the former governor of Maryland, who served from 2007 to January of this year. Jim Webb is a Vietnam veteran who briefly served as secretary of the Navy during the Reagan administration. He served one term as a U.S. senator from Virginia, from 2007 to 2013. Lincoln Chafee was a U.S. senator from Rhode Island from 1999 to 2007, and the state's governor from 2011 to January 2015.
Okay, who's most likely to start a crazy argument that forces another candidate to apologize to their mom for smoking pot?
Maybe Martin O'Malley? He's polling in the single digits, like Webb and Chafee, but he's campaigning much more aggressively than they are. He told the AP he knows he needs to have a breakout moment during the debate. "This will really be the first time that nationally voters see that there's more than one alternative to this year's inevitable front-runner, Secretary Clinton," O'Malley said. "It's a very, very important opportunity for me to not only present my vision for where the country should head, but also 15 years of executive experience, actually accomplishing the progressive things some of the other candidates can only talk about."
But the answer is really none of the above. "I don't think [this] is a debate where you're going to have candidates attack each other," said moderator Anderson Cooper. "We have not seen that on the campaign trail."
But isn't it the moderator's job to make them fight?
During the last debate, CNN made it very clear that Jake Tapper's mission was to instigate arguments between the Republican candidates, but Cooper has a different vision. "I'm always uncomfortable with that notion of setting people up in order to kind of promote some sort of a face-off," he said Sunday on Reliable Sources. "I think these are all serious people. This is a serious debate. They want to talk about the issues. And I want to give them an opportunity to do that."
CNN still has a flashy onscreen gimmick, right? Does the debate take place in front of a tractor formerly owned by Jimmy Carter?
Not unless you've got a virtual-reality helmet. The stage looks pretty generic, and the biggest stunt will probably be Don Lemon reading viewers' questions submitted via social media.
How are the candidates preparing?
The Clinton team has been tight-lipped about how she's getting ready for the debate. Campaign spokesperson Christina Reynolds would only say, "Our fundamental goal coming out of the debate is to lay out why Hillary Clinton is running for president — who she'll fight for, what she'll do as president to address the issues that matter most to our country and to American families." In the past Clinton has held several mock debates before the actual event, and as the New York Times noted she's been debating since she was in high school, so she should be prepared. Sources tell Politico her strategy is to align herself with Sanders's liberal ideals but reject his solutions (and she's sure to bring up gun control, one of the only issues where she's more liberal than the Vermont senator).
While this will be Sanders's first real introduction to a national audience, he's surprisingly casual about debate prep. He's been studying briefing books and meeting with policy experts, but he's reportedly against acting out the debate beforehand. Sanders said last week that he intends to stick to the strategy that's worked for him so far: pointing out policy differences rather than attacking Clinton personally. "You're looking at a candidate who has run in many, many elections who has never run a negative political ad in my life — and hopes never to have to run one. You're looking at a candidate who does not go about attacking personally, I just don't do that," he explained.
"The one thing Bernie's not going to do is be a politician that delivers canned soundbites. That would be a disaster," added Tad Devine, the Sanders campaign's chief strategist. "And one of the reasons to not do formal debate prep sessions is it gets rehearsed."
Meanwhile, O'Malley's taken a more physical approach to debate prep.
I don't know. This whole thing still feels like it could use more Trump.
He agrees. Trump predicted, "People are going to watch for 10 or 15 minutes and turn it off," adding, "I think it's not going to be very well rated, because Trump isn't in the debate."