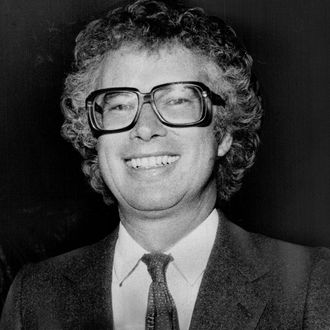 Photo: Dick Darrell/Toronto Star via Getty Images
Former Canadian ambassador Ken Taylor, who played a leading role in the covert plan between the CIA and the Canadian government that rescued six American diplomats during the November 1979 hostage crisis, died Thursday at age 81, apparently from colon cancer.
Taylor, who was the ambassador to Iran when militant students overran the U.S. Embassy in Tehran and took more than 50 Americans captive, helped hide six U.S. diplomats who managed to sneak away during the embassy takeover. Taylor, along with other Canadian diplomats, concealed them for three months, collected intelligence, and coordinated with the CIA to launch "the Canadian Caper," to get those Americans fake Canadian passports and secrete them away on a plane to Switzerland in January 1980. The operation became the subject of Ben Affleck's 2012 Oscar-winning film Argo. Actor Victor Garber played Taylor in the movie.
Taylor was praised for his risky moves during the hostage crisis and awarded the U.S. Congressional Gold Medal in 1980. One of the U.S. Embassy employees Taylor hid, Mark Lijek, told the Globe and Mail, "one thing about Ken was that I don't think he ever doubted what he was doing was right. There was never any hesitation on Taylor's part to offer us sanctuary."
At the time of the crisis, the CIA's involvement in the rescue operation remained classified, so the Canadian government and Taylor got much of the credit. Yet, that narrative reversed itself after the release of Argo, which many thought downplayed the role of Taylor and the Canadians in the plot. Many pushed back, including President Jimmy Carter, who called Ken Taylor "the main hero" and "orchestrated the entire process." But according to the Washington Post, Ben Affleck called up Taylor to discuss any problem the ex-ambassador had with the movie. The two apparently struck up a friendship, and Affleck edited the end credits of the film to more accurately capture Canada and Taylor's role in the Americans' escape.
Canadian and U.S. leaders, including Secretary of State John Kerry, remembered Taylor, who became the Canadian consul-general to New York City after his service ended in Iran and, according to the Washington Post, started a consulting firm and worked as Nabisco senior vice-president. Taylor was granted legal U.S. permanent-resident status in 1985 and lived in New York City — though he said he had no interest in becoming a U.S. citizen. 
Taylor had reportedly been diagnosed with colon cancer in August and was being treated at New York–Presbyterian Hospital.