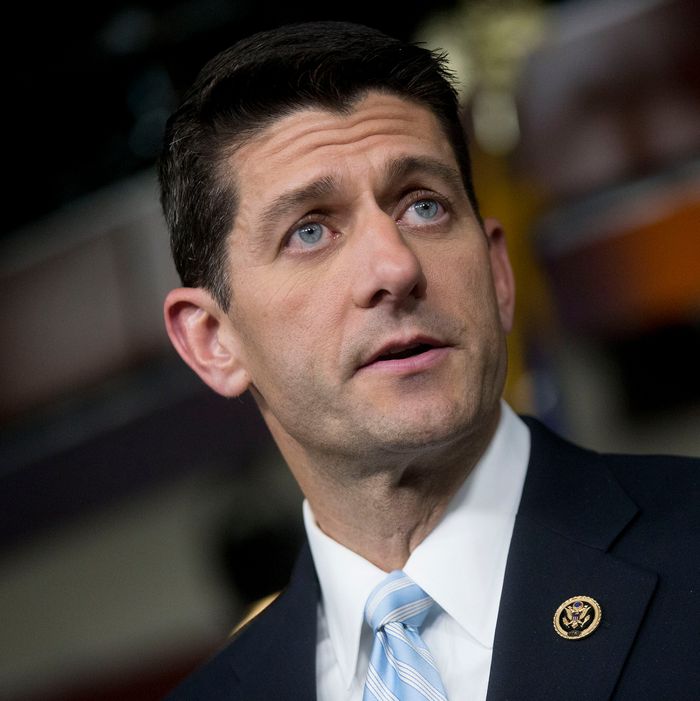 Paul Ryan at a press conference on Capitol Hill in on October 20, 2015.
Photo: Andrew Harrer/Bloomberg via Getty Images
Paul Ryan said this week that he would "be all in" to run for Speaker of the House, but only if he had the endorsement of all major GOP caucuses. On Wednesday night, the Freedom Caucus, the conservative wing responsible for the current leadership crisis, said they'll give Ryan the support he needs to be elected speaker, but signaled that they won't give in to his conditions for taking the job.
After meeting with Ryan this afternoon, the Freedom Caucus said a "super-majority" of the group will support his candidacy, which would give him the 218 votes needed to elect him speaker on the floor. (The two other major GOP caucuses, the Republican Study Committee and the Tuesday Group, are expected to back Ryan.) However, according to Freedom Caucus rules, 80 percent of members must be in agreement in order to issue an official endorsement, Politico reports. "We tried to reach a consensus but we were not able to reach the 80 percent threshold," said Freedom Caucus board member Raúl Labrador. "There is some consensus that it's time for us to move forward. We're trying to move forward in a positive way. It's an offer of support."
Essentially, the Freedom Caucus put the ball in Ryan's court — and it appears he's willing to run with it. Technically Ryan's conditions were not met, and he's made it clear that he has little desire to give up his position as chairman of the Ways and Means Committee for the grueling and thankless job of speaker. However, he seemed positive on Wednesday night. "I'm grateful for the support of a supermajority of the House Freedom Caucus," he said. "I look forward to hearing from the other two caucuses by the end of the week, but I believe this is a positive step toward a unified Republican team."
Ryan's demands were intended to rebuild party unity and increase stability (in addition to making his life as speaker less hellish). As New York's Jonathan Chait wrote:
Ryan is essentially asking the Freedom Caucus to give up its ability to threaten to depose him — the leverage they used to force Boehner to go along with a succession of crazy schemes. Ryan's terms include preventing endless coup threats so that, as he put it, "We do not experience constant leadership challenges and crises."
But the Washington Post reports many Freedom Caucus members balked at Ryan's conditions, particularly changing the "motion to vacate," which allows any member to attempt to oust the speaker with the support of a simple majority. "I'll take this job if I can't get fired? I think that's a pretty bold statement," said Representative Ted Yoho, a Freedom Caucus member who won't support Ryan. "Who wouldn't take a job like that?"
During the afternoon meeting, Ryan clarified that he does not want to eliminate members' ability to remove the speaker, he just wants to raise the threshold for doing so. He also said he'll respect the "Hastert Rule," which states that legislation can only move forward with the support of a majority of the majority party, which reassured members concerned about his previous support for immigration reform.
Still, many conservatives suggested that they won't welcome Ryan as the party's savior, and don't intend to make life easy for him. Some were annoyed that Ryan intends to delegate the speaker's travel and fundraising duties because he has young children. (And liberals called him a hypocrite.) "I don't think the Speakership is a 9 to 5 job," said Representative Tim Huelskamp. "You've got to work on weekends. [Speaker] John Boehner worked very hard … and I'm very concerned if you're not going to work weekends in this job, which is primarily fundraising, then that could hurt the Republican majority." Conservative radio host Laura Ingraham added:
And while Labrador said he intends to vote for Ryan, he warned that his negotiations with the Freedom Caucus aren't over. "This is not about crowning a king, this is about working together," Labrador said.
If Ryan can accept that he'll be tangling with the Freedom Caucus more than he'd hoped, and he wins the GOP's internal election a week from today, he'll likely win the full House vote scheduled for next Thursday.