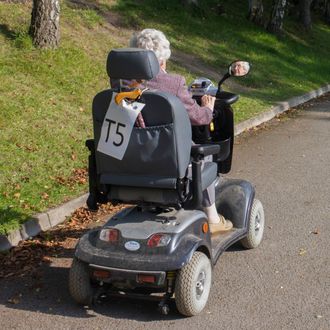 Don't drink and scoot.
Photo: Richard Baker/Corbis
Danny Wayne Mitchell, a 48-year-old man from Conyers, Georgia, was arrested  yesterday for DUI after an SUV hit his Rascal 300 scooter in the parking lot of a local supermarket. Mitchell told police that he had taken sedatives and antidepressants and had "consumed a pint of alcohol" before making a trip to the grocery store for more prescriptions. 
Mitchell said, "I was out of medication, so I had me a drink."

"Mitchell's electric wheelchair was secured at Coyners Police Department for safe keeping," according to the incident report.

According to Georgia law, it is illegal to operate any moving vehicle under the influence of alcohol or drugs. In 2011, a professional landscaper in Monroe, Georgia, was given a DUI for using a riding mower to tow a small trailer on public roads while drunk.