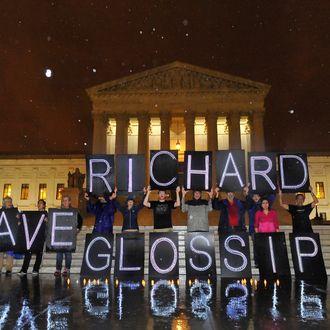 People protest Glossip's execution outside the Supreme Court on September 29, 2015.
Photo: Larry French/Getty Images for MoveOn.org
Earlier this week Oklahoma governor Mary Fallin refused to grant Richard Glossip a stay of execution to examine evidence that suggests Justin Sneed, who killed their boss, Barry Van Treese, in 1997, was lying about Glossip's involvement in the case. But just before Glossip was scheduled to be put to death on Wednesday afternoon, Fallin issued a 37-day stay to address concerns about whether potassium acetate is acceptable to use under the state's lethal-injection protocol.
"Last-minute questions were raised today about Oklahoma's execution protocol and the chemicals used for lethal injection," Fallin said. "After consulting with the attorney general and the Department of Corrections, I have issued a 37-day stay of execution while the state addresses those questions and ensures it is complying fully with the protocols approved by federal courts."
Glossip was the lead plaintiff in the case that led the Supreme Court to rule this summer that midazolam is an acceptable sedative for lethal injections, though it was involved in three botched executions last year. Glossip was set to be injected with midazolam, rocuronium bromide, which stops respiration, and potassium chloride, which stops the heart. Glossip's lawyer, Dale Baich, said they only learned that prison officials intended to swap potassium chloride for potassium acetate from Fallin's statement. "This gets to the larger issue of lack of transparency," Baich said.
Glossip is now scheduled to be put to death on November 6.