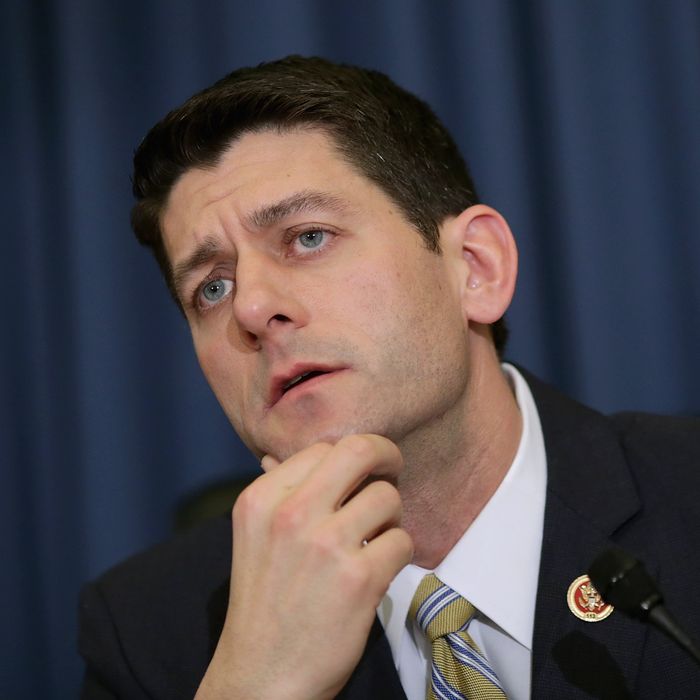 Paul Ryan wonders…
Photo: Chip Somodevilla/Getty Images
GOP Congressman Paul Ryan has apparently been reconsidering his extreme reluctance to vie for the House Speakership following Kevin McCarthy's chaotic exit from the race to replace John Boehner last week, but if Ryan does decide to run, he might not face the same hardliner pushback that prompted Boehner to retire and McCarthy to bow out. Appearing on Fox News Sunday, House Republican Jim Jordan, leader of the GOP establishment-dreaded House Freedom Caucus, indicated the 40-member group might back Ryan, provided the overall power of the Speaker can be reduced. "Paul Ryan is a good man. He's a great communicator, the kind of messenger our party needs and certainly if he gets in the race I think our group would look favorably on him," Jordan said on the broadcast. Indeed, even one of Ryan's potential opponents for the job, Representative Jason Chaffetz, repeated Sunday on ABC's The Week that he would drop out of the race if Ryan entered, remarking that Ryan would make "a wonderful Speaker."
The full support of Chaffetz and conditional support of Jordan and his cohorts reinforce the narrative that Ryan, the former vice presidential candidate and current chairman of the House Ways and Means Committee, is by far the preferred choice of most Republicans for the Speakership. Since McCarthy dropped out, Ryan has received more endorsements than any other candidate, with the primary hurdle being Ryan's repeated statements indicating he was not interested in the job. That stance softened considerably on Friday following the heavy lobbying by his GOP colleagues to reconsider, something Ryan is now taking the weekend to do, and virtually everyone else is the party is now trying to ensure. Even GOP outsiders Donald Trump and Ben Carson have now offered some support. Representative Darrell Issa, who is himself considering the role, is one of the only high profile Republicans to cast anything resembling doubt on Ryan.
Returning to the condition-for-support outlined by Jim Jordan and the House Freedom Caucus, the New York Times pointed out on Saturday that rather than just targeting individual candidates for the Speakership, GOP hardliners are much more interested in weakening the position itself. They want to permanently transform the power structure of the House GOP so that the (more conservative) rank and file can have greater authority, thus upending a decades-long strengthening of the office. Noted the Times:
The changes would include stripping the speaker of his outsize power over the Republican steering committee, which appoints the chairmen for all committees as well as for Appropriations subcommittees. The changes would also reduce the leadership's tight control over what bills and amendments reach the House floor.

Representative Mick Mulvaney, Republican of South Carolina, went so far Friday as to say the speaker should become a more institutional figure, with the role of party leadership and decision-making falling to the House majority leader.
These demands apparently played a role in McCarthy's exit from the race, though its unknown how amenable the GOP establishment would ultimately be to any or all of the changes, or what Paul Ryan's take on the issue would be. But before that can be assessed, it's possible the fate of Ryan's candidacy, and to some extent the future of the Republican Party itself, may now depend on whether or not Ryan's wife Janna will add her endorsement to the pile.