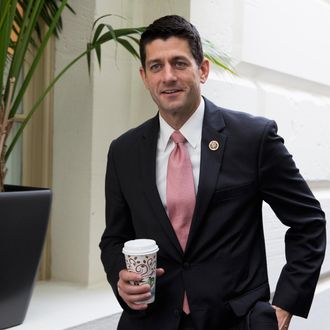 The exact moment when Paul Ryan began to realize what he is actually signing up for.
Photo: Carolyn Kaster/AP/Corbis
On Wednesday, House Republicans officially nominated Representative Paul Ryan as their pick for House Speaker. After nearly a month of fake-outs, complaining, and internal squabbling, they finally decided that he was the most qualified person for one of the worst jobs in Washington. The entire House will vote for the new Speaker tomorrow — Ryan, who spent more than a week saying that he had no desire to be House Speaker, will need at least 218 votes to become John Boehner's replacement. He is expected to get elected. 
The former vice-presidential candidate has only one opponent: Representative Daniel Webster. 
Ryan reportedly told his colleagues, "I don't plan to be Caesar, calling all the shots around here." Since his predecessor, who once likened himself to a garbageman, has had great difficulty calling any shots during his tenure, it seems doubtful that that would have been a possible outcome anyway.
The 45-year-old will be the youngest House Speaker in more than a century. "This begins a new day in the House of Representatives," Ryan said this afternoon. "Tomorrow we are turning the page. We are not going to have a House that looks like it looked the last two years. We are going to move forward, we are going to unify." He did not follow his stirring rhetoric with an estimate on how long it would take until his optimism was crushed forever.
The House has a busy day today; it is also planning to vote on a two-year budget deal that is expected to pass, despite conservative grumbling. The legislation would also raise the debt ceiling, preventing the "political equivalent of a dumpster fire" from happening during Ryan's first week on the job. 
Boehner is set to retire on Friday, and is already thinking about all the golf he will be able to play.