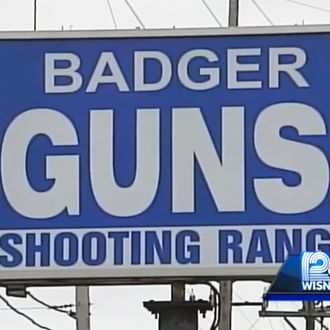 On Tuesday, a jury in Wisconsin found a gun store liable for the injuries to two police officers shot in the face in 2009. Badger Guns will have to pay nearly $6 million in compensatory and punitive damages to officer Bryan Norberg and retired officer Graham Kunisch. The jury said that the gun store should have realized it was selling guns to a "straw buyer," or someone who was purchasing guns for someone legally barred from doing so. 
"Gun dealers have to do more than what we saw in this instance," the lead juror explained. 
Badger Guns is expected to appeal the decision; it faces another lawsuit from two other police officers wounded by guns purchased at the store. A total of six officers are known to have been injured by guns purchased at Badger Guns, according to the Milwaukee Journal Sentinel. In 2005, the gun store — in a previous iteration, Badger Outdoors, owned by a different person — sold more crime guns than any store in the nation. A total of 537 guns from the store were recovered. That same year, Congress passed a law that shielded gun stores from many lawsuits — except when there is proof that laws were broken in the sale of firearms, which is exactly what the plaintiffs in this case alleged. The ATF is also now barred from releasing rankings on gun stores and crime guns, so it isn't clear whether Badger stores continued to sell an incredibly high number of crime guns.
In 2009, Milwaukee Police Chief Edward Flynn told the Journal-Sentinel, "I had an enough-is-enough moment. They know to whom they are selling, they know what is happening with their product, they know citizens in Milwaukee are dying, and they don't care."
Since that law passed a decade ago, no gun store has lost a lawsuit over gun sales — the only other case to reach a jury happened in Alaska, where a man walked into a gun store to buy a weapon, left with the gun before the background check was completed, leaving $200 on the counter, and then killed a 26-year-old. 
Hillary Clinton recently said that she would try to get the 2005 law repealed if elected. 
One expert told the New York Times earlier this week, "If the jury in Milwaukee rules for the victims, it would be a notable and unusual victory. It may well embolden more plaintiffs to bring lawsuits and give new momentum to a litigation campaign that looked all but dead after 2005." A handful of other lawsuits have been filed against gun sellers in recent years — mostly pushed by the Brady Center to Prevent Gun Violence. One lawsuit concerns the Bushmaster AR-15 used to kill 20 children in Newtown, Connecticut; families of the victims sued Remington, arguing that such a powerful gun shouldn't have been sold to civilians in the first place. 
In the Wisconsin case, 18-year-old Julius Burton paid his 21-year-old friend Jacob Collins $60 to buy a gun for him. Video footage shows Burton accompanying Collins into Badger Guns and pointing at the gun he wanted. When Collins filled out paperwork, he first marked that he was not buying the gun for himself. He also changed his address and didn't show an ID when he picked up a gun. He later testified that the person working at the gun store helped him answer a few of the questions. 
A month after the gun was purchased, Burton shot the officers during a routine traffic stop. Burton, who is serving 80 years for attempted murder, later testified that everyone knew that Badger Guns was the place to go for guns. Officer Norberg, only 21 at the time of the shooting, described the incident to the jury, explaining how the bullet shattered eight of his teeth, sending tooth fragments into his tongue before going straight out his cheek and hitting his shoulder. Blood was everywhere, but he had to fight the pain in order to help Kunisch, who was even more seriously hurt and eventually suffered brain damage and lost his left eye because of the shooting. 
In the two years before the shooting, Badger Guns was cited 130 times for federal gun violations, according to the Journal Sentinel. The store's owner had his license revoked by the ATF in 2011 because of the many infractions — he had bought Badger Outdoors and reopened it under the name Badger Guns in 2007 after the ATF threatened to revoke the store's license in 2006.
In 2010, the Journal Sentinel found at least 50 gun stores across the country that stayed open after a license revocation — a step that the ATF rarely ends up taking anyway — with the penalized person remaining part of the operation. One gun-store owner in Mississippi sold his business to his wife for $1 after being punished by the feds. His wife hired him to work at the shop. After revoking a license, the ATF has few options to follow up on the problem — especially since the initial license revocation can take more than a year to complete.
Patrick Dunphy, the plaintiffs' attorney, said he wasn't sure what the case would mean for gun violence across the country. "Will it change the way things are done around the country? Time will tell."