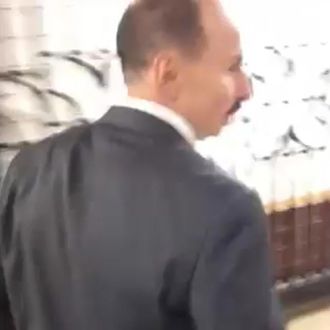 On Monday evening, a woman had the awful but, unfortunately, not uncommon experience of getting flashed while using the New York subway system. As the NYPD told Gothamist, the 38-year-old was standing on a platform in the Fifth Avenue N/R station "when she heard a hissing noise beside her. When she looked to see what the noise was, she observed the suspect manipulating his penis outside of his pants." After learning what had happened, a male bystander followed (and filmed) the creep as he walked toward the exit, which is when the situation became really scary.
According to the cops, the suspect "pulled out a black handgun, pointed [it]" at the other man, and told him to back off.
The incident somehow became even more disturbing once the police managed to track down and arrest the masturbator on Wednesday. As the New York Daily News reports, his name is Steven Esposito — and he's a retired NYPD officer (which means he's permitted to carry a weapon). The 56-year-old Staten Island resident was arraigned on charges of menacing and public lewdness and has been released without bail.