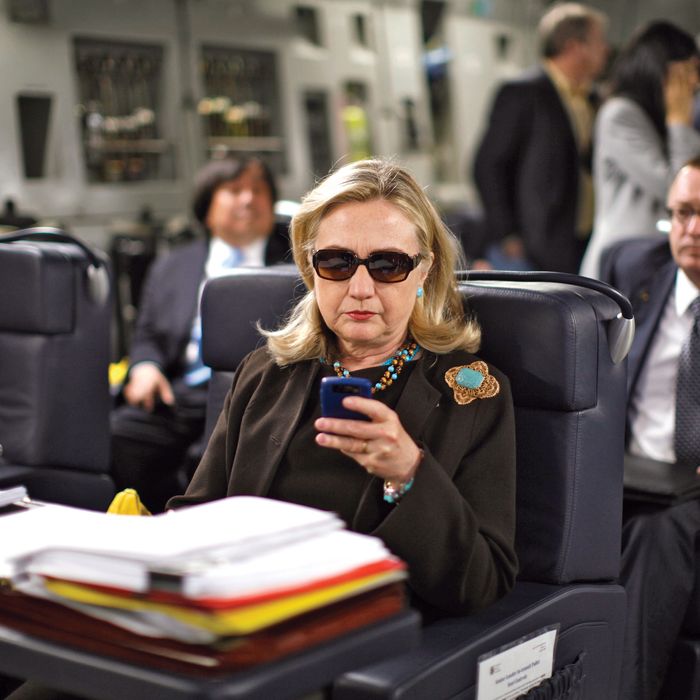 Hillary Clinton, probably thinking about delicious Sabra hummus.
Photo: Kevin Lamarque//Pool via The New York Times/Redux
If it's the end of the month, it can only mean one thing: It's time to dig through Hillary Clinton's old State Department emails for evidence of gross misconduct and/or mundane tidbits about her personal life. In this month's 6,000-page trove, Clinton and company seem weirdly confident that the Chinese have no interest in spying on the U.S. secretary of state, we learn some unsurprising information about Clinton's political ambitions (or lack thereof) in 2012, and her friendship with Senator Barbara Mikulski takes a troubling turn. Read on for all this, and for Clinton's recommendations on healthy, politically charged snack foods.
Unsurprisingly, Clinton never took Dick Cheney's suggestion that she challenge President Obama in 2012 seriously, but her aides were worried that America would.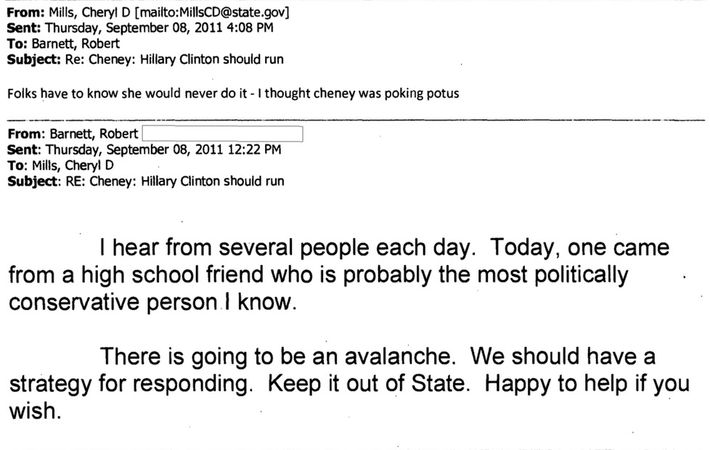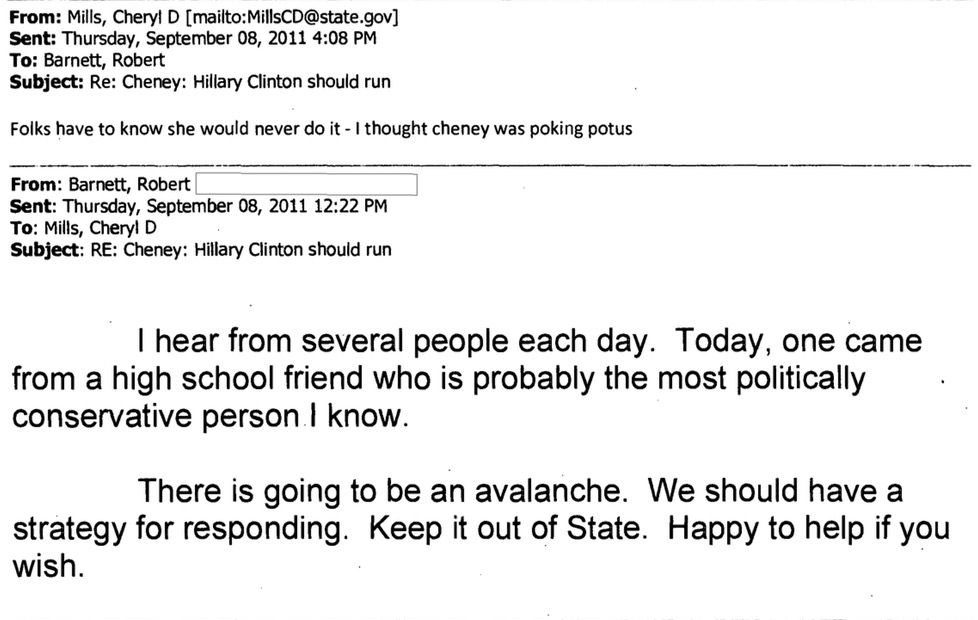 Though candidate Clinton is solidly pro-nontraditional families, she was once worried about how Fox News and Sarah Palin would react to swapping the terms "Mother" and "Father" for "Parent One" and "Parent Two" on passport applications.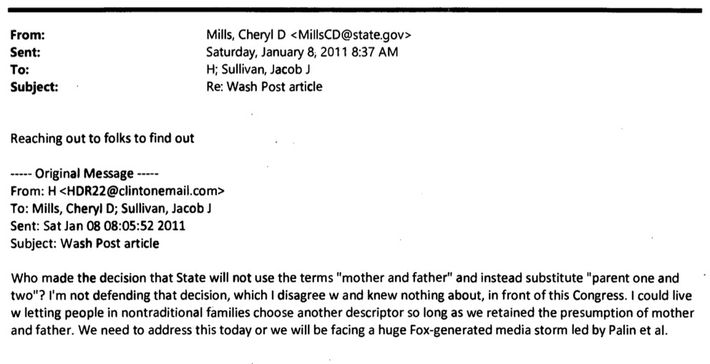 While discussing State Department staffer Nora Toiv's Gmail account, Clinton joked that her private email must have been hacked by the Chinese. Three years later they stole data on 4 million federal employees, but obviously the idea of the Chinese getting into the unsanctioned private server in Clinton's basement is laughable.

Just a few months later, Russian hackers actually did try to hack into Clinton's email by sending her several emails claiming she received speeding tickets in New York. Clinton spokesperson Nick Merrill said, "All these e-mails show is that, like millions of other Americans, she received spam." He also noted there's "no evidence" that Clinton clicked on the attachment or bought the widespread email scheme. Presumably it was obvious that the tickets weren't real, since Clinton hasn't driven a car since 1996.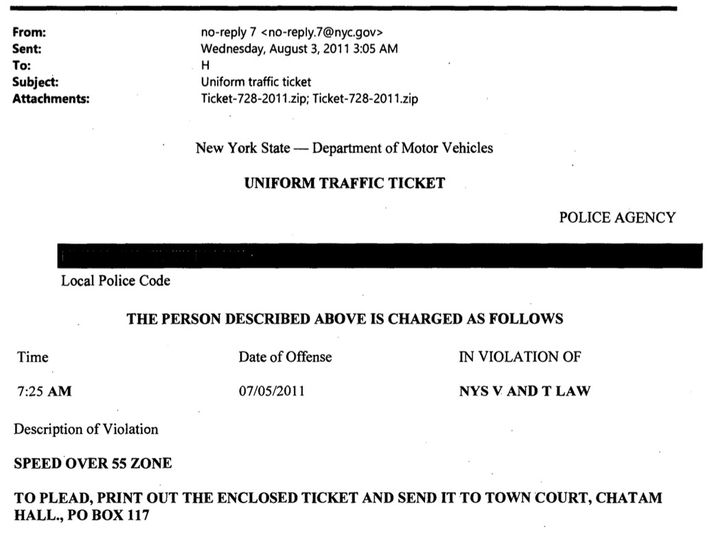 Aide Anne-Marie Slaughter noted that the State Department's technology was so terrible that everyone was using unsecure private accounts. Clinton said publicizing the problem made "good sense," but her chief of staff, Cheryl Mills, countered, "I am not sure we want to telegraph how much folks do or don't do off state mail b/c it may encourage [hackers] who are out there."

Somehow we doubt that this is the weirdest exchange Bill Clinton has ever been a part of, but it's probably up there.

The Clintons meet a lot of colorful characters, and can't be expected to remember all of them. Yet, Senator Chris Coons was reportedly upset that Clinton forgot his name. Maybe she was confused because he's actually the guy who beat the lady who isn't a witch.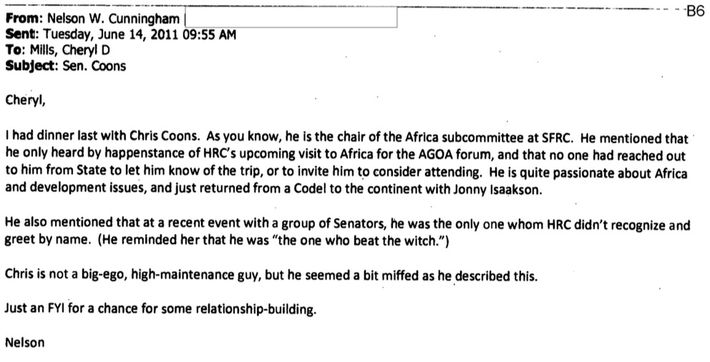 Clinton's exchanges with gal pal/Senator Barbara Mikulski have gotten weirder in each dispatch. Last time Clinton suggested that they "go drink something unhealthy," and this time she became the first human to use the term "home girl" and Harriet Tubman in the same sentence.

While Clinton can work a Harriet Tubman quote into casual conversation, somehow she has no idea what FUBAR means – and her staff won't enlighten her.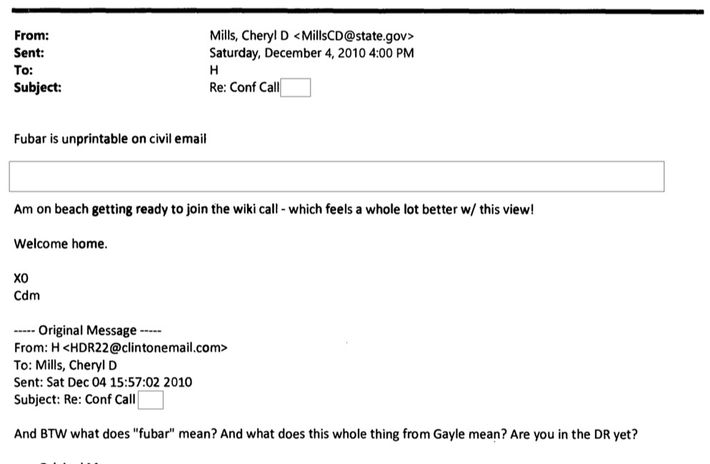 Previous emails raised questions about why Clinton was asking her staff about easily searchable things, like what time Parks and Rec is on. This email reveals that Clinton knows Google exists, she's just not very good at using it.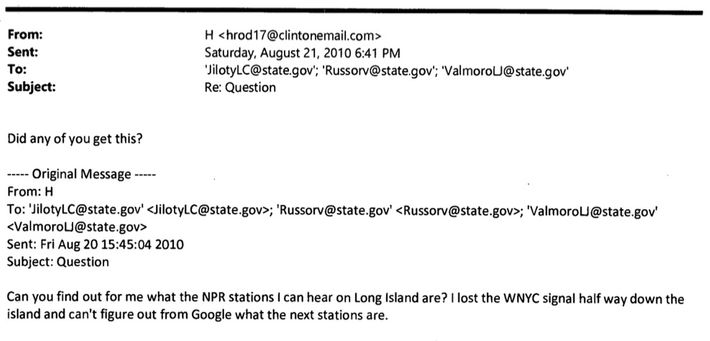 Email is hard too, so sometimes Clinton just lets aide Huma Abedin use her account.

Even using the phone is difficult for Clinton, but this isn't a technology issue, it's a famous person issue.

This month's email dispatch was brought to you by the makers of delicious Sabra hummus. Spread the World!