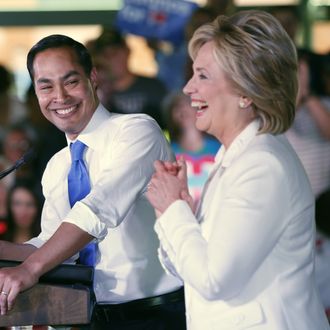 Julian Castro introduces Hillary Clinton on October 15, 2015 in San Antonio, Texas.
Photo: Erich Schlegel/Getty Images
Courting Hispanic voters in San Antonio, Texas, on Thursday, Hillary Clinton suggested that Housing and Urban Development Secretary Julian Castro is on her list of potential running mates should she secure the Democratic presidential nomination. Speaking at a U.S. Hispanic Chamber of Commerce meeting, Clinton said she would "look really hard at him for anything, because that's how good he is."
Castro, a former mayor of San Antonio, appeared alongside Clinton at a "Latinos for Hillary" rally later in the day, where he gave her his endorsement, telling the crowd: "The difference between her and the Republican candidates is that she respects the Latino community."
Castro is the second member of the Obama administration to formally endorse Clinton, after Secretary of Agriculture Tom Vilsack. Castro's twin brother Joaquin, a congressman, has also endorsed her.
At the rally, Joaquin Castro told BuzzFeed that his brother's endorsement was meant to draw a visible contrast with the anti-immigrant vitriol emanating from the Republican camp. "[I]t will be helpful to Hillary to have somebody out there who is a countervailing force," he said, "somebody who can vouch for her, but also stands as a symbol of the American dream for millions of Hispanics."
Clinton's stop in San Antonio was part of a cross-country tour that began in Nevada and will also take her to New Hampshire and Alabama. The former first lady is clearly looking to build on her momentum after her solid performance in Tuesday night's Democratic debate.
Latinos are, of course, a key constituency for Democrats, especially in emerging swing states like Nevada and Colorado (as well as the linchpin of the Democratic dream of a purple Texas). Clinton doesn't have to worry too much about winning their support, though: She outperformed Barack Obama among Latino voters in 2008 and a recent poll found that 73 percent of registered Hispanic Democrats intend to vote for her.