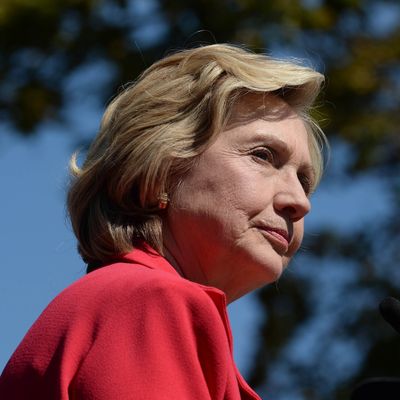 Hillary Clinton speaks in Portsmouth, New Hampshire, on September 5, 2015.
Photo: Darren McCollester/Getty Images/2015 Getty Images
From showing off her fun side on Saturday Night Live, to attacking Republicans over their Benghazi obsession, to gearing up for a potential primary fight against Joe Biden, everything Hillary Clinton has done in recent days suggests that she's ready to go on the offensive and move past the issues that plagued the first six months of her campaign. But her email scandal worsened again on Tuesday (with some help from Republicans). McClatchy reported that a second IT firm was involved in managing Clinton's private email server when she was secretary of state. With Clinton's authorization, Datto Inc. has agreed to give the FBI any information it has relating to her account, which could mean investigators will have another way to obtain the tens of thousands of ostensibly personal emails that Clinton's team deleted.
The FBI is trying to determine whether classified information was improperly transmitted using Clinton's private server. In August, Clinton and Platte River Networks, the company she hired in 2013 to manage the server, turned the device over to the FBI. A source claimed last month that the FBI managed to recover many of the emails, though the server was initially said to be "wiped."
Senator Ron Johnson, the Republican chairman of the Senate Homeland Security Committee, revealed Datto Inc.'s involvement on Tuesday when he sent the Connecticut-based firm a letter asking it to explain how Clinton's emails were handled, and to turn over any messages still found in its systems. Some time in 2013, Datto was hired to back up Clinton's email to an on-site device, so there would be another server if the one controlled by Platte River Networks failed. But according to Politico, in August, Platte River employees realized that Clinton's emails were syncing to Datto's cloud server as well, though Platte River spokesperson Andy Boian said that was not in the contract and "violated the exact instruction we gave them."
When Datto confirmed via email that Clinton's files were syncing to its servers, a Platte River employee replied, "This is a problem." Johnson said that at that point Platte River "directed Datto to not delete the saved data and worked with Datto to find a way to move the saved information … back to Secretary Clinton's private server."
Platte River had directed Datto to keep Clinton's emails for 60 days, but Johnson claims that in late 2014 and 2015 — around the time the State Department asked for Clinton's work-related emails — one of her staffers asked the firm to have Datto save only 30 days worth of emails. The senator's letter cited an email in which one Platte River employee speculated "this whole thing really is covering up some shaddy [sic] shit." That employee also asked co-workers to find the reduction request from the Clinton team. "If we have it in writing that they told us to cut the backups," they wrote, "and that we can go public with our statement saying we have had backups since day one, then we were told to trim to 30 days, it would make us look a WHOLE LOT better."
Platte River's Boian told the Washington Post that despite the employee's private speculation, the company does not think any "shaddy shit" — or rather a cover-up — took place. It's also worth noting that this information comes to us via a GOP senator a day after Clinton released an ad attacking congressional Republicans. But that wasn't the only development in Clinton's email saga. On Tuesday, court documents revealed the State Department recently sent Clinton's lawyer a request for any emails she may have failed to turn over, and lawyers with the conservative group Judicial Watch urged a federal judge to order Undersecretary for Management Patrick Kennedy to tell the court who authorized Clinton's private email server.
The judge has yet to rule on that matter, but he did set hearings for February in two of the nearly 40 FOIA lawsuits involving Clinton's emails. So even after Clinton's showdown with the House Select Committee on Benghazi later this month, and just as the early primaries are getting started, Clinton will still be dealing with questions about her State Department emails.