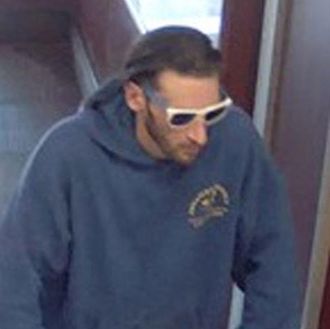 White Ray-Bans, white Jeep Cherokee, perfectly manicured beard, the nose of Owen Wilson, and the carefree ambivalence of James Franco.
Meet Long Island's hipster-bro shrimp thief.
Police accuse the man above of stealing $800 worth of prawns back on October 5 in the Long Island community of Hauppauge. The daylight robbery saw the shrimp thief, who was wearing a hoodie that read "1-800-Chimney," cart off 40 bags of the frozen delicacies before hopping into an accomplice-driven Jeep, NBC New York reports. The photo, captured as the hipster shrimp thief waltzed out of a grocery store, reveals a man who knew store security would capture the moment for posterity — and maybe give him a future profile picture. 
A rash of Long Island frozen-shrimp robberies took place in 2013, when stolen shellfish were fenced to Tai Yu Chinese restaurant in exchange for cash and used by the thieves to then purchase drugs. 
Police have been stumped for more than two weeks as to the identity and motive of the bandit. They've gone public with their frustration and urge residents to come forward with any information about the shrimp thief's whereabouts or identity.
No cocktail sauce was reported missing.