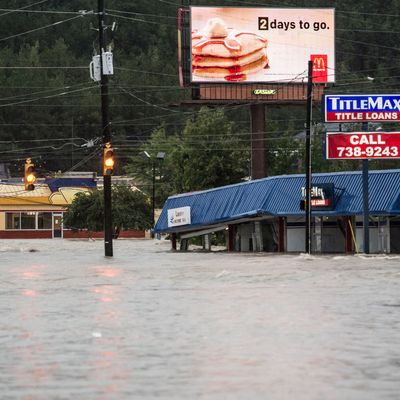 A flooded street in downtown Columbia.
Photo: Sean Rayford/Getty Images
Joaquin may have taken his surprisingly intense act out to sea, but the Southeast still got absolutely hammered with record-smashing rainfall, especially South Carolina, where President Obama has declared a state of emergency as the region endures catastrophic flash floods resulting from what meteorologists like Dr. Jeff Masters say may be the equivalent of a 1-in-1000-year rainstorm. On Sunday, Governor Nikki Haley pleaded with residents to stay safe by staying indoors at least until Monday on account of the extensive and dangerous flooding. Meanwhile, the National Guard is helping authorities conduct rescues of people stranded by the fast rising waters, and flooding has inundated the cities of Charleston, Myrtle Beach, and Columbia, where a citywide curfew is in effect until Monday.
In addition, at least five people have been killed by the floods, more than 30,000 people have lost power, and at least 83 roads in the state were closed on Sunday, including vast stretches of interstate highway. Multiple counties in North Carolina are under states of emergency too, and coastal flood warnings are in effect there as well as in parts of Delaware, Maryland, Virginia, and New Jersey. 
To focus in on one part of South Carolina: According to Slate meteorologist Eric Holthaus, Charleston has been inundated with more than four months worth of rain since Thursday, breaking its daily rainfall record by 8 a.m. Saturday, then doubling that record by Saturday afternoon. Since Friday, Weather.com reports that Charleston has received more than 14 inches of rain; one area near Charleston received more than two feet. In fact, some of the rain in the region was so heavy it was literally off the chart at one point. As a result, the city has seen its largest floods since 1989's Hurricane Hugo. Here's a video of the floodwaters there on Saturday:
And statewide, everything just got worse heading into Sunday morning and beyond, overwhelming authorities. (The New York Times reports that at one point on Sunday, the Columbia Police Department had some 200 pending rescue calls.) Here is some footage of the floodwaters around Columbia on Sunday:
And from Myrtle Beach:
So why is this all happening? Eric Holthaus explains that while the rainy weather was already pretty strange and very rare, it's Joaquin that has pushed the situation into historical-superlative territory:
The incredible moisture flow streaming toward South Carolina from the Atlantic Ocean is being enhanced by Hurricane Joaquin, which continued to strengthen on Saturday and is now the strongest hurricane on record in the Atlantic this far north this late in the year, and one of the strongest ever during an El Niño, which typically makes Atlantic hurricanes weaker.
And how strong had Joaquin surprisingly gotten? Near category-five strong. Also — that resulting moisture flow is pretty wild:
And for the meteorologically inclined, read up on atmospheric rivers, which also help explain this extraordinarily rare weather event. Meanwhile, the rain assault on the Carolinas continued throughout Sunday:
Most of the intense rain had shifted north by Sunday night, but remember that even after the rain stops, it will be a few days before rivers reach their peak heights as the widespread rainwater distributes throughout the region's waterways. This video was taken north of Charleston on Sunday; on Monday, such a flow could be even worse:
In higher elevations, mudslides and landslides are possible as well. The only bright side, considering all the devastation, is that it all would have been much, much worse if monster Joaquin had made landfall in the U.S.
For an enormous collection of images and videos of the disaster, as well as up-to-the-minute coverage, head over to Accuweather's live blog.
This post has been updated throughout.