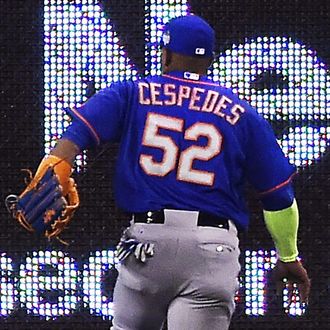 Photo: Jill Toyoshiba/TNS
After every World Series game, brothers and resident New York Mets nuts Benjamin Wallace-Wells and David Wallace-Wells will be chewing over what happened — in this case, a crushing blown save followed by an anticlimactic extra-innings loss.
Ben Wallace-Wells: Ugh, that game went very long.
David Wallace-Wells: Did you make it all the way?
BWW: I did. At a certain point it just seemed like I was in. The last four innings or so were terrible, though — it seemed inevitable the Royals would win, but it took forever.
DWW: The first baseball game I remember watching was Game 7 of the 1988 NLCS. We couldn't watch it live — it was in L.A. and I was 6, which meant it was inconceivable to even dream about staying up that late. So we tried to program the VCR to record it, then got up before dawn and watched the tape, sitting on the floor with the volume turned down. The Mets lost, of course.
Somehow the start of Game 1 already feels about as far away as that. Do you remember when the Fox feed cut out? Did that even really happen? It felt like a return to a mystical past or, anyway, an era when major broadcast networks had to rely on "please stay tuned" cards. I didn't hate the Fox crew as much as the rest of Twitter seemed to, but I was hoping when they switched over to the international booth we'd magically get Gary, Keith, and Ron calling the game. They definitely would not have failed to mention the fact that the father of the Royals' starting pitcher, Edinson Volquez, had died just before the game — and that he hadn't even been told! Which means that anyone following the game online knew — many millions — knew Volquez had lost his dad before he did. That is so fucked up! Though Mike Francesca probably would have approved.
I also wondered what the SNY crew would have said about Yoenis Céspedes's complete disinterest in catching that first-pitch should-have-been-fly-out-to-center? Or Terry Collins's decision to give Michael Cuddyer three at-bats? (Is TC loyal because Cuddyer's the only other guy on the bench with gray hair?) And as much as he helped at the plate last night, I'm also beginning to wonder just how effective a defensive switch it is to bring Juan Lagares in to play center — did you see him trying to throw home in the sixth? The ball went almost to third base. His shoulder is obviously a mess.
There's been a lot of praise paid to Sandy Alderson in the last month or two for the way he managed to actually add depth to the Mets lineup before the trade deadline. But an extra-inning game against a World Series–caliber team makes the Mets look pretty thin out there, even with defensive end Juan Uribe on the playoff roster. Just one game, I know, but it feels to me like the series really is going to be about just how far that starting pitching can take us.
BWW: Gary, Ron, and Keith would have been great. There's such veneration when the national broadcasters come in — every six minutes we're told that history is in the making — whereas last night a less breathless approach seemed better. Game 1 hinged not on the men who have seemed like immortals this month (Murphy, Familia, Harvey) but on the limited players at the end of the roster: Bartolo Colón and Juan Lagares for the Mets, Chris Young and Jarrod Dyson for the Royals. That's the Mets broadcaster sweet spot, in which Gary, Ron, and Keith have worked for years: a poetry of Rey Ordonez and R.A. Dickey, a sensitivity to the greatness of the role player who can really do only one thing well.
I've had a little bit of a complicated relationship with this team ever since it occurred to me they could actually win this thing — only about a week ago, really, after the first game of the LCS. I spent yesterday morning watching old videos of the '86 Mets, clips from A Year to Remember, and, man, were those guys amazing. They recorded so many awful, literal raps ("When you want a batter/ Filled with terror/ Call on me/ Rick Aguilera!"). They looked so skinny and so giddy and young. Darryl Strawberry cut a commercial for milk (the substance) in which he swallows a carton of milk and then turns to the camera and grins, and he looks about 9 years old. Roger McDowell bounced around like a manic chorus dancer. For as dominant as our big three pitchers have been, they seem less like celebrities than like frat caricatures: the Douche (Harvey), the Genial Spacey Dude (deGrom), the Pledge (Syndergaard). Watching Harvey and deGrom's monosyllables on Jimmy Kimmel the other night, I had the most horrible thought that I've had in, what, 30 years as a Mets fan: These are guys Andrew Giuliani could really get behind.
So that eighth inning was pretty great for me. Lagares, with one working elbow, just gutting out that single off a right-hander throwing 100 miles per hour, and then just barely stealing second, and then Wilmer Flores forcing the Royals into an error, and then Familia coming in to clean up Clippard's mess — it all seemed like the Mets, in some real way, and it seemed like they would win. And then it didn't.
You told me a great story a couple of weeks ago, of running in your gym and noticing that a bunch of Orthodox kids had gathered outside the gym windows on the Sabbath, watching the Mets on the monitors inside. Do you think the Mets look as lovable to those kids as the late-'80s version did to us, or do they appear more like they do to me: lovable for Bartolo Colón, Wilmer Flores, Jeurys Familia, for Keith and Ron, but lovable with conditions, in pieces?
DWW: It was the game they clinched a spot in the playoffs, and it was an amazing New York scene — I felt like I was in the middle of In the Year of the Boar and Jackie Robinson. As for this team, I guess I feel obligated first to point out that, prompted for a scouting report on Wilmer Flores during a press conference before Game 1, Terry Collins — adorably? patronizingly? definitely weirdly — answered, "He's got the face of a 15-year-old. Great smile." But the '86 team set an extremely high bar — or at least whatever genius put together that video yearbook A Year to Remember, which I probably watched every single day I was home sick, have probably rhapsodized about as many times since, and which my friend Sadie Stein has memorialized in no less sterling a venue than the Paris Review. (For her wedding, I bought her an autographed vinyl of Darryl Strawberry's rap single, "Chocolate Strawberry," a choice of gift I am unreasonably proud of.)
Is this team likable? I don't really know. The other night I was making fun of a friend for saying David Wright was his favorite Met — I was always Team Reyes, since Wright totally lacks the outer-borough, we-just-discovered-the-stock-market-and-cocaine energy of the '86 team, seemingly engineered in a laboratory by a Wilpon underling ordered to re-create Derek Jeter, minus the black half. Wright is so boring! But then I couldn't come up with a better pick. I was tempted to say Jenrry Mejía, who has an amazing Jheri curl and hasn't actually pitched this season, thanks to multiple PED suspensions. (I love a guy with a PED chip on his shoulder.) And I fell in love with Lagares last year, when he was the best defensive outfielder in baseball and still had a hard time getting into the game every day. But now all he can do is gracefully chase after long fly balls. Dominant starting pitching is supposed to be exciting, but I find these guys individually pretty boring. I always find it irritating when Mets fans complain about how long-suffering they are — the team has been to four playoffs and a World Series in the last 16 seasons; that's not bad — but maybe like all the rest of them I prefer colorful mediocrity.
Speaking of mediocrity and unlikable pitchers, what did you make of Matt Harvey's performance? It puzzled me that Collins decided to run him out for Game 1 rather than deGrom, but I guess he really does consider Harvey his ace — thanks to the kind of clubhouse logic that awards bonus points for swagger.
BWW: I thought Harvey pitched very well, actually! If Céspedes catches Escobar's fly ball in the first (or even if he doesn't call off Conforto, who would have caught it) the Mets very well could have won. The Royals managed to get everything into play, as they always do, but there wasn't much they hit hard. I suspect Harvey starting Game 1 had less to do with Collins preferring him in a vacuum than Collins preferring him in the moment: DeGrom has been used a lot, and he hasn't looked as sharp as he did earlier this fall, and I suspect it made sense to give him an extra day. But who knows what Collins is thinking? The man's an odd duck. Last night he started Kelly Johnson at designated hitter and batted him ninth.
The notable thing last night, for me, was that all of the advantages each team enjoyed over the other seemed smaller than they'd been made out to be. The Mets' pitchers throw incredibly hard, but the Royals' pitchers throw really hard, too. The Royals are an excellent defensive team, but they're not perfect. The Mets' bullpen is pretty good, too; the Royals' lineup runs deep. I think it'll be more of what we saw last night, really — very tight and tense games. Hopefully a little shorter?
DWW: And hopefully with less Michael Cuddyer. And less weird grieving for a starting pitcher more than he himself is grieving. But, yes, totally — tight games. And Joe Buck's old-school veneration aside, it does seem like, whatever the stat-heads say, small ball really does matter in close games! As Harold Reynolds kept pointing out, basically the Mets' whole offense last night was getting Duda to squeak balls through the crazy infield shift with runners on first — those guys would've only made it to second against a normal infield defense, but twice got to third, and each time ended up scoring. Infield defense was also key at a couple of other points — Moustakas saved one run with a dive at third, Hosmer gave the Mets one back with a blunder at first. And was it me or did Wilmer Flores look awesome at short? It's sort of true what Terry Collins said: He does seem like a kid out there — winding up and putting his whole body into every throw, just desperate to actually perform at the level any other major-league shortstop would take for granted.
What's your intuition telling you about Game 2? Is Familia going to be able to shake off the blown save? I think he is my favorite Met, and I really don't want to see him fall apart on this stage.
BWW: I think it's going to get a little wild. Last night was so long and so wearing that I think by the seventh or eighth inning tonight we'll be deep into the benches — like, waiver-wire deep. Like, Kirk Nieuwenhuis–versus–Franklin Morales deep. For all the small-ball chaos last night, in the end the game came down to power: their left-fielder turning on a 97 mph fastball from our closer and hitting it 430 feet. Power's gotten the Mets this far. Tonight, with deGrom against Cueto, I think it gets them a little farther. You?
DWW: I'm just happy to be here. And heartbroken deGrom is going to cut his hair. Go Mets!