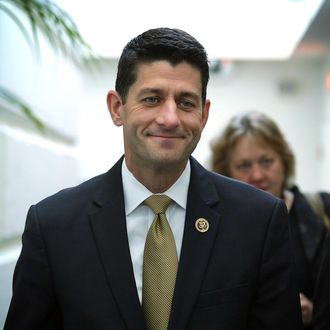 Doesn't it look like he is having so much fun?
Photo: Alex Wong/Getty Images
House Speaker John Boehner announced on Wednesday that Republicans will finally pick his replacement on October 28 — a week from now, and two days before he plans on retiring. 
A floor vote is planned for next Thursday — if the GOP agrees on a nominee.
It's still not absolutely clear who House Republicans will nominate; Representative Paul Ryan basically gave in and said, "Fine, I'll do it already," if a tad more eloquently, on Tuesday evening — but only if the House Freedom Caucus agrees to support him and not bug him all the time if he is elected. Ryan also wants the support of all the other Republican caucuses, but their approval will probably be much easier to win.
The Freedom Caucus's right-wing members haven't decided if they are capable of doing that yet — Ryan gave them until Friday to decide. Reporters have been surveying the caucus's members to gauge their feelings on Ryan becoming Speaker; reactions ranged from "I think it's pretty presumptuous to think that Paul Ryan is the only person who can win this" to "I don't think he said anything unreasonable at all" to statements of support for the caucus's original Speaker choice, the patriotically monikered Representative Daniel Webster. According to the Washington Post, "80 percent of [the caucus's] roughly 40 members must support a candidate to grant an endorsement."
Another House Speaker candidate, Representative Jason Chaffetz, dropped out when Ryan announced he was open to running. 
Boehner, who probably doesn't want to have to stay in D.C. past next Friday, has been complimenting Ryan effusively. "He's a very good member," Boehner told reporters, adding that he would be a "great speaker."
"He works hard. He is very bright and has a good relationship with all wings of the party," he said.
However, Representative Mo Brooks told CNN that the House might not even end up having an election next week. Remember when House Majority Leader Kevin McCarthy was supposed to be nominated earlier this month?
"John Boehner previously set elections. Those can change on a moment's notice," said Brooks, who is already thinking about impeaching Hillary Clinton if she is elected. "There's a plethora of candidates for speaker of the House out there … this may take awhile but we need to do whatever's necessary to make sure we make the right decision."