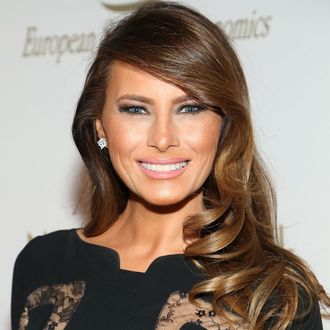 Photo: Monica Schipper/Getty Images
In a presidential campaign cycle full of familiar names and candidates who have already run a campaign or two or eight, Donald Trump stands out — a factor, no doubt, in his unexpected popularity surge. The same logic holds for his wife, who is rarely seen on the campaign trail and, unlike one candidate's spouse, has never been president. 
Plenty of reporters seemed to realize that Melania Trump remained a mystery, and this week the world was blessed with a surfeit of information about her in three profiles in the New York Times, Washington Post, and People. 
The three stories all relay a series of similar facts — growing up in Slovenia, becoming a model and then Trump's "Cinderella," and then declining to talk much about his political ambitions — and reach different conclusions as to whether Melania would be a very new sort of First Lady, or a very old-school one.
The People story is the most predictable — the magazine has a formula when it comes to stories about political families, one that ensures that it gets access to political spouses, and in turn doesn't ask questions that the candidates and their family would rather not answer. The story sticks mostly to family life and the Trumps'$2 9-year-old son, Barron. Neither Melania nor Donald is quoted in the Post and Times stories — reporters seem to have found the one topic that Trump is less than willing to talk about. 
Melania told People she wasn't "ready to get political yet" and that she was willing to simply support him, noting that even if she were to get more involved, it probably wouldn't have a notable impact on how Trump campaigns. "He is who he is," she said. "Even if you give him advice, he will maybe take it in, but then he will do it the way he wants to do it. You cannot change a person. Let them be. Let them be the way they are." 
It was nearly the exact thing she had told Parenting a few years ago: "I think the mistake some people make is they try to change the man they love after they get married. You cannot change a person."
The beginning of the Washington Post profile emphasizes the big difference between Melania's life BT (Before Trump) and AT — her quiet life in Slovenia, where she didn't try to stand out — while the New York Times chose to start with the big differences between the former model and many modern First Ladies: "Lying prone on a rug adorned with the Great Seal of the United States, the woman who might someday be first lady is wearing high-heeled sandals and a crimson bikini." 
The Times is referring to a story in British GQ from 2000, when Donald Trump was running for president with the Reform Party. Eight paragraphs in to the Post piece, the reporter couldn't help also mentioning that the spread would be a First Lady first: "[S]he would be the only first lady to have posed in the buff while lying on a fur blanket handcuffed to a leather briefcase, as she did aboard Trump's jet for British GQ in 2000."
Both stories also note that Melania would be the first First Lady not born in the U.S. since Louisa Adams — as would Columba Bush — and both stories emphasize that the role of campaign spouse is mostly being filled by Trump's daughter Ivanka, who has made many more public appearances than Melania. Both profiles remark on how different she is from Trump's previous wives, Ivana and Marla Maples. Neither story features a selfie of Melania's crotch — although this was not always true. 
The Times quickly pulled a tight-focus pelvic selfie Melania shared on Twitter in what Erik Wemple at the Washington Post described as a "case of crotchaphobia." 
The Times did find that Melania's low profile left many with little to say about her. The newspaper found four people who said the former model was "nice," reinforcing that no one knows terribly much about her.
The profile in the Times notes that "Mrs. Trump then settled into a life that, were it not for her husband's presidential aspirations, might resemble that of any number of trophy spouses in New York, Palm Beach and Paris"; that "Observers of the business and ongoing theater of a Trump candidacy are bound to be struck by the passive role played by the candidate's wife, one seeming to predate gender equality, in an embrace of values from an era when a potential first lady might be less likely to have served as her husband's former law firm mentor (as Michelle Obama once was) than his carpet ornament."
Several prominent readers online were not impressed by this characterization.
And what does the new information we learn about Melania mean for the campaign? 
Refreshingly, nothing. There are plenty of campaign spouses who don't care at all about politics, and it does seem new that at least one has managed to get away with not being a "secret weapon" to a candidate's success — as the wives of Barack Obama, Mitt Romney, Jeb Bush, Rand Paul, and Ted Cruz have all been characterized, as well as, of course, the husband of Hillary Clinton. As Michelle Obama noted, the scrutiny that comes with being a candidate's spouse can lead to "a lot of sleepless nights."
CNN has also called Melania a "secret weapon" for Trump's campaign, but it seems like the only thing we can definitively glean from this trifecta of profiles is that she'd rather not be, thanks very much.