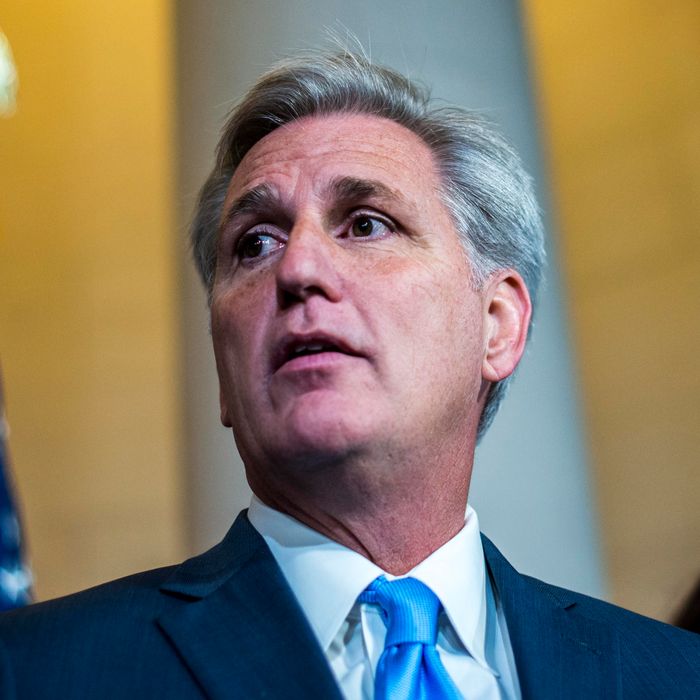 House Majority Leader Kevin McCarthy, with wife Judy McCarthy, speaks to the press on Capitol Hill, October 8, 2015.
Photo: Melina Mara/The Washington Post via Getty Images
Why did Representative Kevin McCarthy abruptly bow out of the race to be speaker of the House on Thursday morning? According to most major media outlets, and McCarthy himself, in light of opposition from a bloc of conservative House members and his Benghazi gaffe last week, McCarthy wasn't sure he'd be able to win a vote on the House floor — or lead if he did win the speakership. (Or he just realized it's a miserable, thankless job.) But wait, what's this about?
Halperin didn't clue in his viewers during Thursday's All Due Respect, so it's not entirely clear what he's referring to. But it probably has something to do with the rumors that McCarthy is carrying on a Scandal-worthy extramarital affair with Congresswoman Renee Ellmers. (The ensuing chaos is a good example of what happens when there's no Olivia Pope to tidy things up in under 50 minutes.)
Both McCarthy and Ellmers have repeatedly denied the accusations, and understandably, most reputable outlets do not want to run a headline that reads, "McCarthy Quits Race Due to Affair, According to Wild, Unsubstantiated Rumor." But Republican representative Walter Jones made the story hard to ignore when he sent a letter to Representative Cathy McMorris Rodgers, a member of the House leadership, this week calling on any candidate to "withdraw himself from the leadership election if there are any misdeeds he has committed since joining Congress that will embarrass himself, the Republican Conference and the House of Representatives if they become public."
Yet many news organizations did choose to continue ignoring the rumors, or to repeat Jones's comment without any explanation of the "misdeeds" he's believed to be alluding to. The New York Times didn't mention the letter, but the paper noted that McCarthy's move "echoed the events of December 1998, when another Republican speaker-in-waiting, Representative Robert L. Livingston of Louisiana, was forced to withdraw his name for the job because of a sexual scandal."
On Wednesday Politico ran a report on the letter, and said Congressman Jones was "referring to marital infidelity." In an interview, Jones claimed he wasn't pointing to any individual, and McCarthy's name doesn't appear in the piece. The affair allegation wasn't mentioned in a subsequent story that promised to go "Behind McCarthy's decision to bail."
Both the Washington Post and the Associated Press reported that McCarthy brushed off a question about whether the letter contributed to his decision (saying "nah"), but readers are left to speculate about the nature of his potential "misdeeds."
Similarly, the Hill pulled off an impressive journalistic feat with a detailed report on GOP House members confronting McCarthy about certain "rumors" that never states what they might be. The piece begins:
House GOP lawmakers this week confronted Majority Leader Kevin McCarthy (R-Calif.) about rumors they worried could have hampered his bid for Speaker.

At a closed-door meeting on Tuesday with Texas's GOP delegation, members pressed McCarthy for reassurances.

Those attending the session said McCarthy told them that the rumors were not true, and the 25-member delegation endorsed the GOP leader for Speaker.

"They said, 'Do not let me support you and find out later once we elect you, you did" commit a misdeed, said one senior Texas lawmaker who was in the meeting.  "I was satisfied with Kevin's answer."
All the obfuscation was too much for Fox News host Shepard Smith. "What do you know about Kevin McCarthy that I don't know?" Smith demanded in an interview with Congressman Jones. (Clearly, Shep's the only journalist whose mind isn't in the gutter.) When Jones suggested he was just speculating about possible misfortunes that could befall the GOP, Smith grew more agitated. "This doesn't sound like a man who is on a fishing expedition," the host said. "This sounds like a man who knows something he's not talking about, doesn't it? I mean, if you didn't write this, wouldn't you think that?" Jones replied, "Well anything you want to read into it, you're welcome to read into it."
Or you could just read the Huffington Post's Michael Calderone, who wrote a detailed and straightforward report on a threatening email sent to McCarthy and dozens of influential Republicans before the vote, with the subject line "Kevin, why not resign like Bob Livingston?"
The email, sent just after 8 a.m. on Thursday, came from Steve Baer, a Chicago-based GOP donor known for mass-emailing conservative figures and Republican lawmakers. It was addressed to McCarthy and numerous others, including the personal account of Rep. Renee Ellmers (R-N.C.), who conservative media sites have suggested is tied romantically to McCarthy.
To get the full story requires delving into conservative media. RedState editor-in-chief Erick Erickson explained on Thursday that thanks to Baer's emails, the story was getting a good deal of buzz on the Hill in recent days. And "the buzzing became chatter" once Ellmers made an odd quote about McCarthy failing to ask for her vote, saying, "I'm apparently not high on his priority list."
According to the Daily Caller, after McCarthy's announcement, someone added allegations about the affair to McCarthy and Ellmers's Wikipedia pages from a Department of Homeland Security IP address. "DHS has immediately launched an investigation into this serious matter," said DHS spokesperson Marsha Catron. "If it is discovered that a DHS employee, using Government property, is responsible for these alleged actions, immediate and appropriate disciplinary action will be taken."
But where did these allegations originate, and why have mainstream sites been so reluctant to report them, even after they indirectly sparked an internal DHS investigation? The answer to both questions is provocative right-wing blogger Charles C. Johnson, who reported the affair rumors on GotNews.com in January, and received a cease-and-desist letter from Ellmers's attorney earlier this month. He gloated on Facebook, "One day I'll tell the full story about how I defeated the majority leader for the speaker of the house."