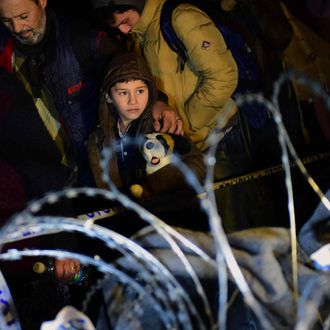 Photo: Attila Kisbenedek/AFP/Getty Images
Hungary closed its border with Croatia to migrants overnight, prompting its southern neighbor to divert the steady stream of refugees seeking a safe haven in the EU westward to Slovenia.
A month after sealing off the country's Serbian border with fences and razor wire in an attempt to curb the influx of refugees, many of them fleeing war-torn Syria, Hungary's right-wing leadership proceeded to do the same on the Croatian frontier, announcing the closure at midnight Friday.
Budapest also announced that it was reintroducing border controls with Slovenia—a significant step, as both countries are members of the EU's visa-free Schengen area. The reinstatement of controls effectively suspends Hungary's participation in the Schengen agreement.
In an interview published on Friday in the German magazine Focus, Hungarian Prime Minister Viktor Orban reiterated his reservations about allowing Muslims from the Middle East to settle en masse in Europe, saying Islam "has never been part of Europe" and calling it "the rulebook of another world." Orban maintains that most of the 600,000 people who have arrived in Europe this year are economic migrants, not refugees.
Hungary's move will slow but not stop the tide of refugees through southern Europe. Slovenia says 300 people have already arrived and will be processed before moving on to Austria and Germany, the preferred destinations of most of the refugees. The tiny Adriatic country can only accommodate up to 8,000 migrants a day, but has pledged to keep its borders open to refugees as long as its richer northern neighbors are still willing to let them in.
On Thursday, the European Commission offered Turkey 3 billion euros in aid in exchange for help in stemming the flow of refugees. Turkey's foreign minister dismissed the offer as "insignificant" the next day, and Amnesty International has criticized it for putting European countries' border security concerns before the rights of refugees.