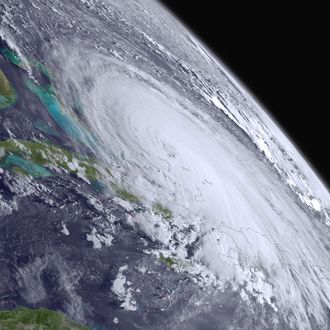 Hurricane Joaquin.
Photo: NOAA
Don't start stocking up on bottled water or anything (yet!), but our terrible new friend Hurricane Joaquin has grown into an "extremely dangerous" Category 4 storm. While there's now a good chance that Joaquin will not make landfall in the United States, the East Coast — everything from North Carolina to Maine — can expect extremely heavy rain and wind from Thursday evening through Saturday, regardless of where the hurricane winds up.
According to the National Hurricane Center, Joaquin is currently hanging around the Bahamas, where it will continue to batter the islands with 124 mph winds (and gusts of up to 155 mph) for another 24 hours or so. After that, the storm could slam into North Carolina, Virginia, and Maryland, or — more likely, according to the Global Forecast System's latest prediction — it could turn away from the East Coast and into the Atlantic Ocean. In a statement, the NHC said, "Confidence in the details of the track forecast late in the period remains low," which basically means that we'll have to wait until Friday morning for a clear idea of what will happen.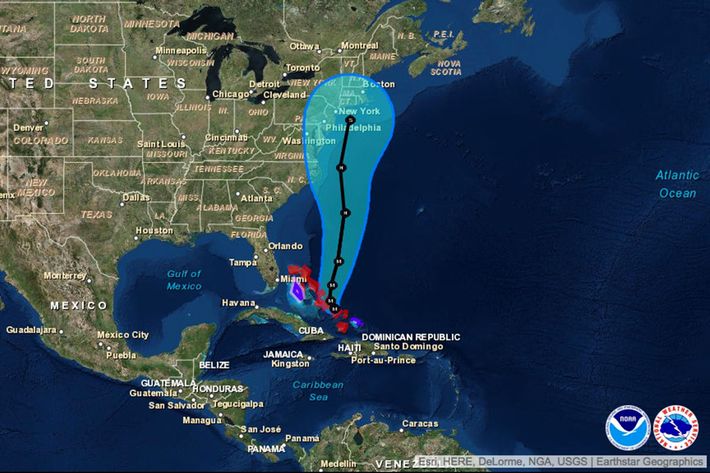 Either way, American officials aren't taking any chances. North Carolina, Virginia, and New Jersey have already declared states of emergency, warning their citizens to ready themselves for potential floods. "We are not quite yet sure whether this is going to be a single punch or a double punch. There is no question this will be a single punch that will start this evening," said New Jersey governor Chris Christie. "We are prepared. We need you to prepare and not panic."
Meanwhile, Governor Andrew Cuomo said New York is in "a much, much better position" than it was when Hurricane Sandy struck three years ago. "I have learned the hard way that it is better to prepare for the worst," he said. DNAinfo reports that the Office of Emergency Management has gathered representatives from the NYPD, FDNY, and MTA to, as a spokesperson put it, "sit in a room, [work] together, [watch] the storm closely and making sure we are ready." However, Cuomo was sure to note that "you can't be prepared for everything." So just go ahead and cancel your weekend plans.