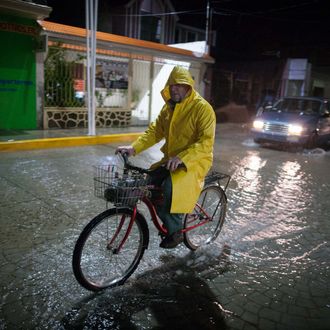 Photo: Pedro Mera/Xinhua Press/Corbis
Hurricane Patricia, which on Friday morning was the strongest hurricane ever recorded in the Western Hemisphere and made landfall on Mexico's Pacific Coast on Friday night with 165 m.p.h. winds, weakened swiftly as it traveled over Mexico, and by midday Saturday had been downgraded to a tropical depression as it moved across the country's central mountains. The full extent of the storm's damage won't be fully known until later Saturday, but CNN notes that Mexico has likely been spared the catastrophe many feared, though the storm's torrential rains have still left affected areas prone to potentially deadly flash flooding and mudslides. On Saturday morning, Mexican President Enrique Peña Nieto called the damage minor when considering the strength of the storm, but also warned those who had been in the storm's path to remain sheltered due to the continued risk. So far there have been no reports of deaths or major damage from the storm, suggesting that the wide-scale evacuations and other preparations conducted by Mexican officials were successful.
Patricia made landfall a little after 6 p.m. Friday along a sparsely-populated part of Mexico's southwest coast, and while it was still a category-five storm at that time, its strength had already dropped by almost 20 percent from the 200 m.p.h. winds recorded while the storm was at sea on Friday morning.
The nearby cities of Puerto Vallarta and Manzanillo were spared direct hits, and while some damage has been reported in Manzanillo, Puerto Vallarta — one of Mexico's major resort cities — was left almost entirely unscathed. Meanwhile, those in Patricia's direct path some 60 miles northwest of Manzanillo reported storm surges, road-blocking landslides, and fallen trees and power lines.
Four hours after landfall, Patricia was downgraded to category four, and its weakening continued overnight until it was a tropical storm early Saturday, and later just a tropical depression with sustained of winds less than 35 m.p.h. The storm is expected to have fully dissipated by sometime Saturday night. In the meantime, however, the risk from the torrential rains remains high, not just in Mexico, but also in Texas, where the effects of Patricia's storm system have intensified already massive rainfall amounts, and widespread flooding has been reported.
This post has been updated to reflect new information about the storm.