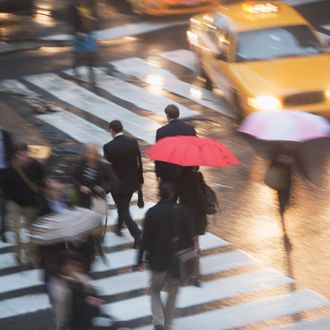 Photo: fotog/Getty Images
Hurricane Patricia broke up with itself before it could cause much devastation in Mexico or Texas, but the diminished storm is still migrating north, bringing lots of rain and wind wherever it goes. 
On Wednesday, the storm will meet up with a storm system from Canada, making flooding and an awful commute home tonight very possible (but also providing a fail-proof excuse for those hoping to leave work on time in order to watch the World Series … or the Republican debate). Those driving should be especially wary, as the finally falling leaves might make things slippery.
And if you ever feel the urge to complain about the rain today, just remember that reservoirs are probably rejoicing — the city hasn't seen much rain in weeks, something your bored and restless umbrellas know well. 
Although the city could get a few inches of rain, the weather does not seem to have figured out that it's almost November. High temperatures for the rest of the week range from the high 50s to the low 70s — Friday, the day when the Mets return to New York, is supposed to be sunny and mostly clear, for those lucky enough to have tickets. Halloween and Marathon Day should both be appropriately pleasant, if perhaps a tad chilly.