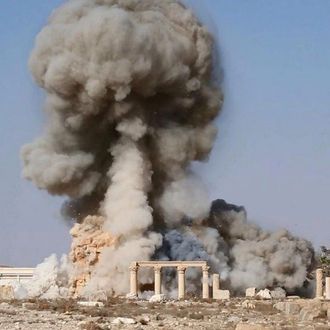 ISIS has managed to intensify its cruelty by devising a way to murder people and erase ancient history at the same time. According to reports from the Syrian Observatory for Human Rights, the extremist militant group tied at least three prisoners to Roman pillars in the Syrian desert city of Palmyra, rigged the structures with dynamite, and blew them up Monday afternoon. 
The identities of the prisoners are unknown, but local activists — who collect information for groups like the Syrian Observatory — believe they were civilians. ISIS has been waging war against artifacts, which the militants consider idolatrous. ISIS has systematically obliterated structures in Palmyra, a UNESCO World Heritage site with an irreplaceable trove of monuments dating from around the 1st century A.D., since militants took control of the city in May. This summer, ISIS destroyed the 2,000-year-old Temple of Bel, which historians considered one of the most important monuments in Syria and across the Middle East. ISIS also razed the Temple Baalshamin, among other prized statues. If ISIS refrains from blowing the sites to pieces, it vandalizes and loots them, selling them on the black market for profits. 
As reports of ISIS's latest brutality trickle out, Secretary of Defense Ash Carter arrived on Capitol Hill Tuesday to testify before the Senate Armed Services Committee about the U.S.'s strategy to combat the Islamic State in Iraq and Syria. Carter doubled down on the U.S.-led coalition's commitment to support and equip moderate rebel forces in Syria, and to coordinate with Iraqi troops to defend and retake territory from the terrorist organization.
Carter also acknowledged that the U.S. would increase the number of raids on key ISIS targets — which he signaled could involve more combat operations on the ground. "We won't hold back from supporting capable partners in opportunistic attacks against ISIL or conducting such missions directly," Carter told lawmakers, "whether by strikes from the air or direct action on the ground."
Last week, U.S. special forces and soldiers from the Kurdish peshmerga swooped in on an ISIS prison in northeastern Iraq and rescued about 70 ISIS-held hostages. One U.S. soldier and member of the elite Delta Force, Army Master Sergeant Joshua Wheeler, was shot by ISIS fighters and died in the raid on the compound.