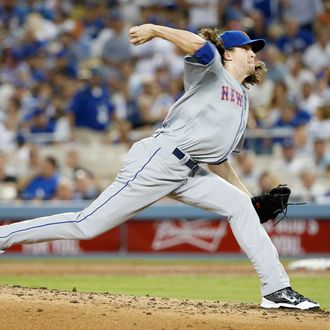 Jacob deGrom in Game 1 of the NLDS.
Photo: Sean M. Haffey/Getty Images
The National League Division Series between the Mets and Dodgers features four of the top six pitchers on the league's 2015 ERA leader board, and the matchup in Game 1 was especially fun: Jacob deGrom, last year's Rookie of the Year and one of the best young arms in baseball, against Clayton Kershaw, a three-time Cy Young winner and last year's N.L. MVP who struck out a league-best 301 hitters this year. Such matchups don't always live up to expectations, but this one did and then some, with deGrom and the Mets drawing first blood in the series with a 3-1 road victory.
In his first career postseason start, de Grom was spectacular, throwing seven shutout innings and striking out 13 batters. He threw 121 pitches, allowed five hits (two of which were misplayed by Michael Cuddyer), and issued just one walk (it was intentional). He set the franchise record for strikeouts in his postseason debut, and became the first Met since Dwight Gooden in 1988 to strike out at least 10 batters in a playoff game.
Kershaw was pretty good himself, though. He allowed just four hits and struck out 11 over six and two-thirds innings, and when he left the game in the seventh, he'd allowed just one run, on a Daniel Murphy homer. (Murphy, by the way, had just one homer in 126 at-bats against lefties this season. And Curtis Granderson, who had two hits off of the left-handed Kershaw, hit just .183 against southpaws in 2015. In fact, all four hits Kershaw allowed were to lefties, though lefties actually hit him a bit better than righties during the regular season.) In any case, Game 1 was the first postseason game in Major League history in which both starting pitchers struck out at least 11 batters.
Kershaw, however, got into trouble in the seventh, and walked the bases loaded before getting pulled by L.A. manager Don Mattingly. Pedro Baez entered the game in relief with two outs, and David Wright, the only Met left from the franchise's last playoff team in 2006, promptly singled in a pair of insurance runs. He was quite psyched:
Once deGrom departed, Tyler Clippard allowed a run that cut the Mets' lead to 3-1, but Jeurys Familia nailed down a four-out save to seal the victory.
Game 2 is set for tomorrow night at 9 p.m. New York time. The Mets will send Noah Syndergaard to the mound against Dodgers co-ace Zack Greinke. No matter what happens in that game, though, the Mets already know they'll return to Queens with home-field advantage in the series.