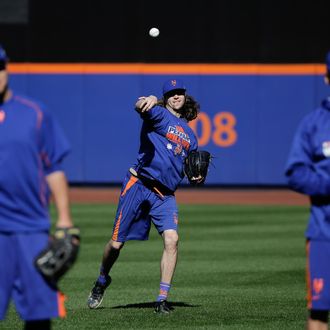 Jacob deGrom during a workout last Friday.
Photo: Julie Jacobson/AP/Corbis
When Terry Collins explained his decision to start Matt Harvey in Game 1 of the World Series, he said the desire to give Jacob deGrom an extra day off factored into his decision. The extra day may not make much of a difference — deGrom hasn't pitched since October 20, so he's already gotten much more than his usual rest — but that it influenced Collins's decision is telling. DeGrom was statistically the Mets' best pitcher this season (if only by a little), and was brilliant in Game 1 of the NLDS. But in his last two starts, he labored more, even as he picked up wins in both. Collins has expressed concern more than once this fall that deGrom may be fatigued, so as he takes the ball in the biggest game of his life tonight with the Mets looking to even the series, what can we expect?
So far this year, deGrom has thrown 211 innings — more than he ever has before. He's said he hasn't felt fatigued in his last couple of starts, but Collins spoke yesterday about what to watch for to tell if he doesn't have his best stuff. It's not so much a question of how hard he throws, but rather how much life the ball has. Here's Collins, via Newsday:
"He's at a stage where the ball doesn't have the life down, even though he has the velocity," Collins said. "It doesn't have the life it once had. He's been missing balls up in the zone. For me, that is that release point, that consistent release point you have to make the pitches. If you start to get a little fatigued, that hand just doesn't catch up sometimes. That's why we wanted to give him an extra day, because the last time we pushed him back a little bit, he came out throwing great. We're hoping that extra rest is going to make a difference tomorrow night. This guy is as good as there is in the league."
DeGrom, a 27-year-old in his second big-league season, has never pitched against the Royals and has only faced one batter on the Royals' roster. (Backup catcher Drew Butera is 0-for-3 against him.) For what it's worth, deGrom's numbers with six or more days' rest are good (2.85 ERA, 0.972 WHIP, .203 batting average against), but that's in a small sample of just eight games.
His playoff history is an even smaller sample: After his dominant win over Los Angeles to open the NLDS, he had to pitch out of trouble on multiple occasions in Game 5 of that series, then got off to a rocky start in Game 3 of the NLCS before settling down to go seven innings. On the one hand, it's a good problem to have to fret over the worst aspects of a pitcher's three postseason victories. And it's not like deGrom has been bad by any stretch. But Collins's worries, however mild they may be, have more to do with a young pitcher hitting a wall toward the end of a long season than they do with obsessing over a tiny sample of two outings.
Collins had expressed concern about fatigue before the playoffs even began, when he mapped out a plan to give deGrom some extra rest in the final weeks of the regular season. "You can just see the location of his pitches is not what it needs to be," Collins said then, making roughly the same point he did yesterday. "That to me [that] dictates that, even though the velocity is still good, the release point needs to be under control a little bit more."
Obviously, his success tonight will be determined by more than his release point, especially against a Kansas City team that doesn't strike out very much. But in what could be a tight series, having deGrom at his best would go a long way toward sending things back to Queens tied at one.