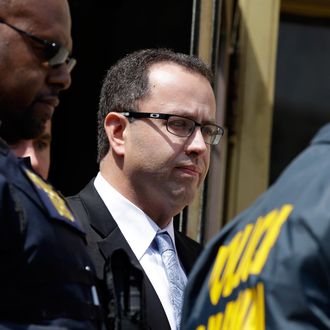 Photo: Michael Conroy/AP/Corbis
Jared Fogle, the formerly obese former Subway sandwich spokesperson, has paid $1 million in restitution to victims of his sexual crimes, Assistant U.S. Attorney Steven DeBrota in Indianapolis told reporters Thursday.
The payments come as part of a plea agreement that will send the former Subway pitchman to prison for the next 5 to 12 and a half years, on charges of child pornography and crossing state lines to engage in sex with a minor.
Each of the 14 victims Fogle secretly photographed or solicited for sex acts will receive $100,000 in restitution. According to DeBrota, 10 of those 14 victims have already been compensated, while the others will receive payments before Fogle's sentencing hearing in November.
In August, Fogle's attorney, Jeremy Margolis, told the AP that his client "fully recognizes that such monetary contribution will not undo the harm he has caused" but nonetheless hopes that the money might help "these individuals as they try to move forward with their lives."