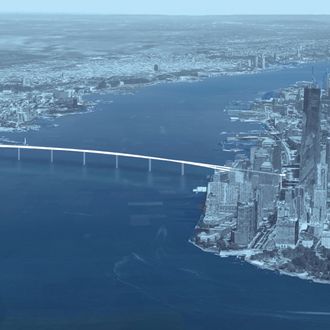 The Liberty Bridge.
Photo: Jeff Jordan Architects
What if you could live in Jersey City and walk to work in New York City? Jersey City architect Jeff Jordan, crowdfunding enthusiast Kevin Shane, and many of their neighbors have teamed up to produce plans and renderings for the Liberty Bridge, a 5,000-foot-long walkway over the Hudson River. Think of it as their version of High Bridge.
Because, you know, nobody just wants a nice view, it'll come complete with dedicated lanes for biking and power walking, Wi-Fi (so power walkers power texting can run into you), solar panels, retail space, and art exhibitions.
If you want to help Jersey City residents not have to take the PATH train or the Holland Tunnel, Shane has drafted a petition and a list of ways you can aid this beautiful dream to become a commuter reality. With a little pluck and determination, we can make Jersey City more accessible — and thus, inevitably, even less affordable — than it's ever been before!