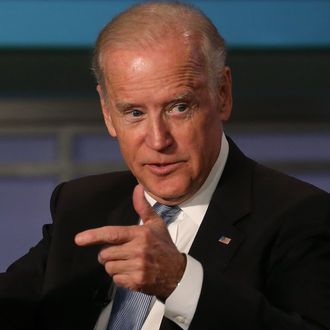 Joe Biden speaks at George Washington University on October 20, 2015.
Photo: Mark Wilson/Getty Images
Either Joe Biden is gearing up for his entry into the 2016 race, or he just thinks Hillary Clinton needs to be taken down a peg. The vice-president never mentioned the Democratic front-runner by name, but at an event honoring former Vice-President Walter Mondale on Tuesday evening, he took aim at Clinton's boast during last week's debate that she's proud to count the Republicans among her enemies. "It is necessary to end this notion that the enemy is the other party, end this notion that it's naive to think we can speak well of the other party and cooperate," Biden said.
Earlier, during a conversation with Mondale, Biden noted that he's flown more than one million miles to meet with world leaders, echoing Clinton, who frequently points out that she traveled 956,733 miles as secretary of State. "We've had two great secretaries of State," he said, "but when I go, they know that I am speaking for the president. There is nothing missed between the lip and the cup. Whatever I say, the president is saying."
Biden also challenged Clinton's oblique suggestion during the debate that she's running for a third Obama term. He claimed that for the past seven years, he's spent five to seven hours a day with the president. "I attend every meeting the president has — at his request," Biden said, adding that they are "simpatico" on every major issue.
And what about the 2011 raid that killed Osama bin Laden, that one very notable occasion when Biden and Obama weren't in sync? Well, Biden spent the day revising that story, so now he was completely behind the decision to send in special forces.
During a Democratic congressional retreat in 2012, Biden suggested that while nearly everyone else in the room hedged, he told the president he should gather more intelligence before launching the attack. He recalled advising Obama, "My suggestion is, don't go. We have to do two more things to see if he's there." Obama backed this up in the third presidential debate in 2012, telling Mitt Romney that others shared his skepticism about the raid. "Even some in my own party, including my current vice-president, had the same critique as you did," Obama said.
In 2013, Biden began shifting his account of what happened in the Situation Room, saying he told the president to follow his instincts. Before an audience at George Washington University on Tuesday morning, his account continued to evolve. This time he said he withheld his opinion in front of other officials, and suggested sending one more surveillance drone over the compound. But he said in private, he encouraged the president to send in a team of Navy SEALs. "As we walked out of the room and went upstairs, I told him my opinion, that I said that I thought he should go but to follow his own instincts," Biden said.
Former White House Chief of Staff Bill Daley said on Tuesday that the meeting went down as Biden described it, but in previous accounts from other officials, including Clinton, they've suggested Biden was wary of launching an attack. During the debate in Las Vegas, Clinton said she was one of the few advisers who supported "the tough decision that President Obama had to make about Osama bin Laden."
There is one person who could clear things up, but right now he's not commenting on the potential campaign showdown between his vice-president and former secretary of State. "I am going to leave the dissection and the oral history of those days to those who were actually there," said White House Press Secretary Josh Earnest when asked about Biden's shifting story at Tuesday's briefing. "I don't have any new insight to share with you about the president's recollection of those events."