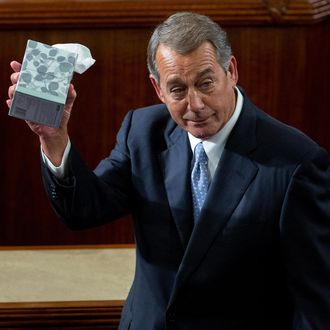 Photo: Andrew Harrer/Bloomberg/Getty Images
Before House Speaker John Boehner began his farewell speech on Thursday, C-SPAN made sure to acknowledge the most tireless and loyal member of his team with a cinematic, career-defining close-up.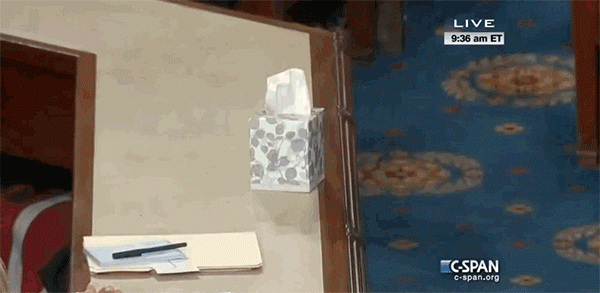 "The hill had twists. The hill had turns," he said, summing up his slow and steady ascendancy to becoming closer to the presidency than anyone besides the VP. "And even a few tears. Nothing wrong with that. But let me tell you, it was all just perfect."
After his speech was over and a few tissues had been sacrificed in the name of the greater good, he swung the box in the air. The whole chamber gave him a standing ovation at the end — or maybe it was for the tissues?
Boehner retires Friday after 25 years in Congress and nearly 5 years as Speaker. "I leave with no regrets or burdens," he said in his speech. "If anything, I leave as I started — just a regular guy humbled by the chance to do a big job. That's what I'm most proud of — that I'm still just me."
He also made sure to chastise his colleagues who could use some fashion advice, an occupational hazard in Congress. "As much as I've enjoyed working with all of you, some of you can still dress better," he quipped. "You know who you are."
Although the politician got emotional and nostalgic during his good-bye, he is probably more than a little relieved on the inside. He has called being Speaker the "loneliest place in the world" in a few exit interviews. He has also said being Speaker is sort of like being a garbage man or a toy monkey. 
He told the New York Times, "At some point you have to kind of slow down a little bit. That is part of the goal. I am not sure I know how to do that, but I am going to have to learn." He has a new grandkid; when NPR asked what he hopes the kid calls him, he joked, "Mr. Speaker."